New Monitoring Solutions are Designed for Real-Time Data Analysis
Press Release Summary: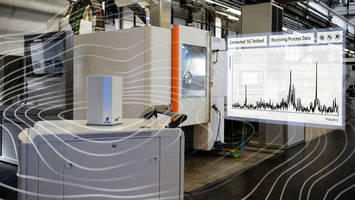 The Monitoring Solutions use 5G technology for communicating with sensors and machines that reduces errors in jet engines milling production. These solutions store production and sensor data individually for each product that creates digital twins for quality design, accurate documentation and analytics. They ensure adaptive control of production processes with short reaction times.
---
Original Press Release:
Fraunhofer IPT, Ericsson and GF Present 5G Manufacturing Solution for the First Time in the United States
LINCOLNSHIRE, Ill., September 10, 2018 – Fraunhofer Institute for Production Technology IPT, Ericsson and GF Machining Solutions joined forces on a collaboration to create a networked, adaptive manufacturing solution that was unveiled during the International Manufacturing Technology Show (IMTS) in Chicago.
When milling parts at high speeds, excessive vibrations can occur, resulting in surface defects and rework. However, in industries requiring high process reliability and strict compliance control such as the aerospace sector, there is no room for error. 
Fraunhofer IPT, Ericsson and GF Machining Solutions have combined their expertise in telecommunications and manufacturing to create a real-time process monitoring solution based on 5G technology to communicate with sensors and machines to reduce errors in jet engines milling production.
The ultra-low latency and reliability of Ericsson's mobile communications will enable increased predictability, real-time monitoring of sensor vibration data and better production control, thus allowing for adjustment of the cutting parameters. Where wired or unlicensed solutions like wireless LAN cannot meet the needed speed demands for the application, 5G has proved to be the only communication standard that can deliver on the sensor and production data in under one millisecond. 
The aim of Ericsson, Fraunhofer IPT and GF is now to further develop this kind of wireless sensor connections for real time data analysis as was presented at the IMTS, ensuring adaptive control of production processes with extremely short reaction times. Therefore the three partners chose a Mikron MILL P 500 U from GF that uses highly dynamic direct torque motors as well as a precise gantry with to 1.7 g acceleration and an accuracy of ±2 µm in the plane, which delivers the power and precision to enable such fast reactivity.
Due to high-value components and complex production with high safety regulations and standards, the aeronautics industry was identified as a potential early adopter of 5G networks in production. Other sectors are sure to follow as industries switch to more data-driven and flexible manufacturing. Industry 4.0 will rely on increasingly fast, secure, and often wireless, data transfers to optimize operations, increase automation and mitigate risk in manufacturing environments.   
In the case of the Blade-Integrated Disks (BLISK), a component of a jet engine's compressor, the workpiece could not be inspected until the lengthy milling process was over, leading to defective products and rework up to 25 percent. By using 5G enabled process monitoring, one single factory could see annual savings of up to USD 30 million.
"Our main challenge is the increasing number and complexity of parts we have to design and produce. 5G will bring a very important benefit so we can handle more data in real-time," says Thomas Dautl, Director of Manufacturing Technology & Industrialization, MTU Aero Engines.   
All production and sensor data can be stored individually for each product, creating digital twins for quality design, accurate documentation and analytics. If defects arise, the data pinpoints to where the fault originated and the production can be optimized.
"This technology, thanks to its interoperability and limitless capabilities, is the perfect fit for our current analytics-based in-process development. As such, it is a great enabler of our digitalization road map," says Benoit Defrasne, Head of Marketing and Product Management Milling at GF Machining Solutions.
The potential fields of applications and use cases for 5G are numerous. 
"We invite all interested companies to visit us in Aachen, Germany, to experience our unique test environment for industrial 5G applications," says Niels König, Manager of the Production Metrology Department and Coordinator of 5G activities at the Fraunhofer IPT. "The International Center for Networked Adaptive Production (ICNAP) in Aachen will gather partners from the ICT and manufacturing industries as a collaboration platform to address all relevant questions that come along with the digitalization of production in the context of Industry 4.0. 5G is currently one of the major topics for the ICNAP."
The selected communication standard determines the type of application, the quality of the data and whether or not machines, sensors, robots can be securely managed and interconnected through one network.
"Cellular networks like 4G/LTE and the evolution to 5G provide one simple, secure and smart wireless solution for critical and massive IIoT, handling growing network, data and application demands of Industry 4.0," says Erik Josefsson, Head of Advanced Industries, Ericsson.
Find out more on how 5G and cellular technologies can support digitalization and address challenges and opportunities in different industries: www.ericsson.com/en/networks/cases/5g-ultra-low-latency-propels-jet-engine-manufacturing and https://www.vernetzte-adaptive-produktion.de/en/technoloy-trends/5g-datenuebertragung.html.
Profile of Fraunhofer IPT
The Fraunhofer Institute for Production Technology IPT in Aachen, Germany, brings together many years of knowledge and experience from all fields of production technology. In the areas of process technology, production machines, production quality and metrology as well as technology management, Fraunhofer IPT offers its customers applied research and development for a networked, adaptive production. The institute's range of services is orientated towards the individual tasks and challenges within certain industries, technologies and product areas, including automotive and supply, energy, life sciences, aviation, mechanical and plant engineering, optics, precision and micro technology as well as tool and mold making. The Fraunhofer IPT currently employs a staff of approx. 460, working on projects in 9,000 m² facilities, 5,000 m² of which are used as laboratories and machining workshops. As a close partner of the Fraunhofer Center for Manufacturing Innovation CMI in Boston (MA) Fraunhofer IPT also enables long-term technology transfer between European and American industries. Read more on http://www.ipt.fraunhofer.de/en 
Profile of Ericsson
Ericsson is a world leader in communications technology and services with headquarters in Stockholm, Sweden.  Our organization consists of more than 100,000 experts who provide customers in 180 countries with innovative Solutions and services. Together we are building a more connected future where anyone and any industry is empowered to reach their full potential. Net sales in 2017 were SEK 201.3 billion (USD 23.5 billion). The Ericsson stock is listed on Nasdaq Stockholm and on NASDAQ in New York. Read more on www.ericsson.com 
Profile of GF Machining Solutions
GF Machining Solutions is the world's leading provider of machines, diverse technical solutions and services not only to the tool and mold making industry but also to manufacturers of precision components. The portfolio ranges from electrical discharge machines, high-speed and high-performance Milling machines—including clamping and palletization systems, 3D Laser surface texturing machines and Spindles—to solutions for Tooling and Automation, services, spare parts, expendable parts, consumables and Digitalization solutions. GF Machining Solutions is a globally acting Division of the Georg Fischer Group (Switzerland) and maintains a presence on 50 sites worldwide within its own organization. Its 3'255 employees generated sales of CHF 992 million in 2017. More information can be found at www.gfms.com. 
MEDIA CONTACTS:
Karl Kleppek
Director of Business Development
GF Machining Solutions LLC
847.955.7164 | karl.kleppek@georgfischer.com
or
Chuck Bates
Vice President
dgs Marketing Engineers®
317.813.2230 | bates @dgsmarketing.com 
More from Cleaning Products & Equipment