New Mojo Gamer Pro Gaming Desk Comes with Electric-Powered 3-Stage Steel Telescoping Frame
Press Release Summary: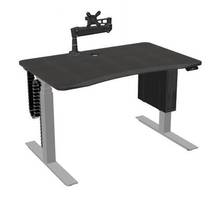 Mojo Gamer Pro Gaming Desk features adjustable height (24-50.25 in.) and supports desktop sizes of 48 x 30 in., 60 x 30 in., and 72 x 30 in. Unit is offered with MAGicSnap cable chain, cable tray, powerbar, monitor stand and CPU hanger and can be used for over 20,000 up/down cycles. The desk comes with 4 programmable presets, LED display screen and 3-D NextGen laminate finished desktops. Mojo Gamer Pro meets BIFMA and UL GreenGuard standards and can hold up to 350 lbs.
---
Original Press Release:
New Mojo Gamer Pro Adjustable Height Standing Desk Offers Ultimate Gaming Experience
In celebration of E3, the largest convention in the computer and video game industry, MojoDesk announces Mojo Gamer Pro, a professional level electric sit-to-stand gaming desk. Mojo Gamer Pro adjusts to the perfect height and ergonomically designed to keep players moving, alert, and comfortable no matter how long the game lasts.
DENVER (PRWEB) JUNE 13, 2018
In celebration of E3, the largest convention in the computer and video game industry, MojoDesk announces Mojo Gamer Pro, a beautifully designed sit-to-stand gaming desk now available at getyourmojo.com. Mojo Gamer Pro is built to national ergonomic standards to keep players moving, alert, and comfortable no matter how long the game lasts. The professional level gaming desktop has a beveled edge that aids with wrist and forearm comfort – whether for a quick stream or hours long raid. And it's more than just functional. The carbon fiber desktop style is intended to match and compliment gaming gear and the steel frame eliminates keyboard, screen and controller bounce.
Mojo Gamer Pro is loaded with gaming-focused accessories to keep players' attention on the action. The monitor arm and CPU hanger provide maximum desktop space for a USB microphone, webcam, and avoids tangled wires from headsets, controllers, and keyboards. The included magnetic cable management prevents hanging cords underneath the desk for a clean, uncluttered look.
As of 2018, the average age of gamers is 35 and over 50% of gamers use a PC or dedicated console. But Mojo Gamer Pro isn't just for adults. It adjusts to every height on-demand to facilitate any user or mood. "You always want to minimize your children's screen time, but Mojo Gamer Pro is intended to keep them moving and changing positions while playing inside," said MojoDesk Founder Barry Carson.
And it's safe. Mojo Gamer Pro has been tested for durability and stability by BIFMA, an independent organization which set the standards for the commercial furniture industry. Additionally, it is also equipped with a tip-prevention sensor. This safety feature senses a collision – such as a chair, knee or pet – and immediately stops moving. And Mojo Gamer is UL Greenguard certified for air safety, the most stringent chemical emission standard in the world.
Besides the casual gamer, the desk was also designed as essential equipment for professionals making a living in online gaming tournaments or uploading their skills to YouTube. Whether you have a compact laptop or heavy-duty rig with widescreen monitors, mic, and lighting, Mojo Gamer Procan withstand all of your hardware.
Prepare for the endgame with the best gear available. Mojo Gamer Pro with help you play like a boss and beat the boss. Learn more at getyourmojo.com 
Professional Level Gaming Desk, zero keyboard bounce or shake
Electric-powered 3-stage steel telescoping frame fits heights up to 6'5"
Adjustable height range: 24" - 50.25" high
Desktop Sizes: 48x30" 60x30" 72x30"
Desktop Color: Carbon Fiber
Desktops finished with 3-D NextGen Laminate
Includes MAGicSnap Cable Chain, Cable tray, Powerbar, Monitor Stand, CPU Hanger
4 programmable presets, energy-saving LED display screen
Stylish and functional contoured desktop edges for best ergonomic wrist position
Holds up to 350 lbs, frame tested for long-term use for over 20,000 up/down cycles
UL GreenGuard Certified (desktop and frame)
Meets BIFMA standards for stability, safety, and durability
Free US Shipping (Lower 48)
Zero Risk 30 Day Returns, shipping covered both ways
5 Year Warranty
About MojoDesk
MojoDesk has perfected the design of adjustable-height standing desks with a history of excellence of selling ergonomic solutions to businesses and government agencies such as NASA, the FBI and thousands of 911 call centers.
Designed and made in the US, MojoDesk is a new consumer and small business product division of Xybix which has been in business since 1991. MojoDesk and Mojo Gamer Pro are designed and manufactured at their 40,000-square foot factory in Littleton, CO.
Email: info@getyourmojo.com 
Website: getyourmojo.com
Showroom and Factory:
8207 SouthPark Circle 
Littleton, CO 80120 
800.297.6656
Contact Information
Devin Fox
MojoDesk
http://https://getyourmojo.com/products/best-gamer-standing-desk
8002976656
More from Cleaning Products & Equipment