New Modular Mobile Scanner Embedded with Impinj Indy RS500 RAIN RFID Modules Provides Class 1 Gen2 Shortrange Scanning at a Three-meter Range
Press Release Summary: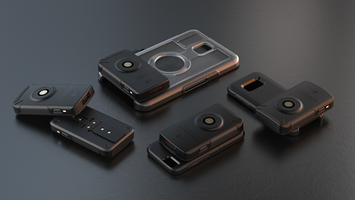 Improves workflow and process efficiency with a dual scan mode and universal adaptation to any phone, tablet or computer
Long-range scanner scan dozens of tags per second and supports both optical and RFID modes
Ideal in retail, transportation, healthcare, logistics hospitality and entertainment operations
---
Original Press Release:
RFID Long-distance Portable Scanner Showcased
Unique, modular Node™ solution featured at Impinj Booth of RFID Journal Live
Lake Forest, CA (April 1, 2019) — Node™, a top-of-the-line, long-range scanner supporting both optical and RFID modes, will be introduced at RFID Journal Live! The April 2-4 event is the largest trade show for Radio Frequency Identification (RFID) innovation and technology.
Blacksmith's Node™ is the first true modular mobile scanner. Designed for true mobile operation, Node™ integrates optical and Ultra-High Frequency scanning capabilities in a pocketable form using Impinj technology. Blacksmith's ultra-portable scanner improves work flow and process efficiency with a powerful dual scan mode and universal adaptation to any phone, tablet, or computer.
"The versatile Node™ is designed to reduce time spent on labor-intensive tasks and manual processes. Connecting through Bluetooth with any smartphone or tablet, this portable, mobile scanner provides real-time access and accurate, up-to-date information," said Vic Pramono Blacksmith's Product Director. "These portable, lightweight scanners provide efficient and cost effective support for best practices in several, varied industries."
Compact and lightweight Node™ scanners make a big, powerful difference by offering flexible scanning mobility. Node™ can scan dozens of tags per second. Node™'s secure backend and software infrastructure allow for live tracking of inventory and tag information remotely. Embedded with Impinj Indy RS500 RAIN RFID modules, Node™ provides Class 1 Gen2 shortrange scanning at a three-meter range. For long-range scanning, reading at a six-meter range, Node features the Impinj Indy RS1000 RAIN RFID module. In a warehouse, for instance, a technician could quickly scan pallet contents without needing to open or unwrap the delivery.
Impinj (NASDAQ: PI) is a leading provider and pioneer of RAIN RFID solutions which are used to wirelessly connect everyday items to the internet and deliver digital life to the physical world. Blacksmith's product will be displayed in the Impinj booth (#707).
The unique, modular Node™ solution is suitable for operations of any scale in retail, transportation, healthcare, hospitality and entertainment, logistics, and more. For example, with integrated optical (1D/2D) and RFID scanning capabilities, Node™ allows for reliable association between RFID luggage tags and passenger ticketing information. Node enables luggage tracking and compliance with International Air Transport Association (IATA)'s Resolution 753.
The highly versatile Node™ can be used with any Bluetooth enabled Android or iOS phones available today. The Blacksmith Node™ is part of a modular logistics ecosystem, designed to work with most computers, smart phones and tablets. The software can be easily integrated into existing infrastructure for tailored dashboards, API, and customizable third party validation. Explore this top innovation at the 17th annual RFID Journal Live conference showcasing the many ways RFID drives business benefits today.
About Node
Blacksmith Node™ is a professional Bluetooth 1D/2D barcode and long-range RFID scanner designed to reduce time spent on labor-intensive tasks and manual processes. This scanner instantaneously identifies items and automatically stores information in your central computer system. Node™ is manufactured and engineered by Blacksmith Precision Instruments, which creates quality and reliable instruments that perform accurately, every day in every environment. nodelot.com
Contact:
Vic Pramono
info@nodelot.com
+1-714-675-9485
nodelot.com​
More from Controls & Controllers