New Model SPM80R-IMP Pencil Grinder Comes with Molded Sleeve
Press Release Summary: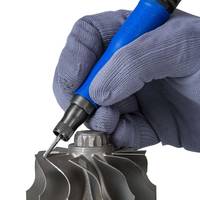 Delivers a speed of 80,000 RPM for fine finishing and features a slim body design
Suitable for use with carbide burs and mounted points
Offered with latest designed roll throttle that provides operator ease of use
---
Original Press Release:
FALCON Tool Company Introduces New and Improved Pencil Die Grinder!
(Traverse City, MI, 2/22/2019) – FALCON Tool Company is pleased to roll out our new and much improved Pencil Die Grinder! This new model SPM80R-IMP (Item #09M-PDG1100) has replaced the previous SP75R-IMP model and brings with it many new features including a newly designed roll throttle which offers ease of use to the operator, a new molded sleeve resulting in improved ergonomics, insulation and operator comfort and a modification to the motor delivering enhanced power and torque. It still offers the same slim body design for intricate work, a small diameter for precise control and increased speed (80,000 RPM) for a finer finish.
"This new grinder is slim and compact for control and precision yet extremely powerful and the perfect tool to use with our large variety of carbide burs and mounted points," says Betsi Burns, Sales and Product Manager at FALCON. "We're very excited to be able to offer this much improved pencil grinder."
For further information, please visit our website www.falcontool.com or contact our customer service team at customerservice@falcontool.com or 216.328.0300.
For More Information Contact:
Lesley Murphy
Sales and Marketing Manager – Mold Polishing Products
231.929.2121 x 1141
www.falcontool.com
More from Construction Equipment and Supplies