Pressure Sensors / Detectors / Transducers
New Model 105C ICP Pressure Sensor Offers Measurement Range of Full Vacuum to 100 psi
Press Release Summary: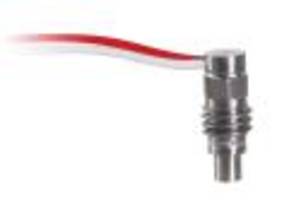 The Model 105C ICP Pressure Sensor features a quartz-sensing element that offers resonant frequency greater than 250 kHz. The sensor is suitable for applications such as ship propellers and control surfaces, airplane and spacecraft scale modeling and hydraulic and fluid media control.
---
Original Press Release:
PCB Piezotronics, Inc. Launches Subminiature ICP Pressure Sensor
Dynamic pressure measurement for the smallest spaces
December 18, 2018 DEPEW, NY - PCB Piezotronics, Inc., a wholly owned subsidiary of MTS Systems Corporation (NASDAQ: MTSC), has released its smallest ICP piezoelectric, pressure sensor with integral lead wires. The Model 105C pressure sensor is as robust as PCB's larger sensors but compact enough to fit into small spaces or areas with tight clearances. The small size and stiffness of a quartz-sensing element yields a very high resonant frequency (> 250 kHz) for high quality measurements where other piezoelectric pressure sensors cannot fit or survive. 
The overall length was reduced by 48% over models with connectors, allowing it to be installed into strategic locations where unsteady pressure fluctuations and cavitation occur. For example, around impellers, propellers, or fluid jets. Providing dynamic measurement from full vacuum to 100 psi (690 kPa), it also has applications in wind tunnels with proper thermal protection.
Additional suggested applications include:
Ship propellers and control surfaces
Airplane and spacecraft scale modelling
Hydraulic and fluid media controls
Model 105C is available for immediate shipment. Visit www.pcb.com for additional information or contact Kevin Kolmetz, PCB Product Marketing Manager at (800) 828-8840 x2213 or kkolmetz@pcb.com.
About PCB Piezotronics, Inc.
PCB Piezotronics, Inc., is a designer and manufacturer of microphones, vibration, pressure, force, torque, load, and strain sensors, as well as the pioneer of ICP technology used by design engineers and predictive maintenance professionals worldwide for test, measurement, monitoring, and control requirements in automotive, aerospace, industrial, R&D, military, educational, commercial, OEM applications, and more. With a worldwide customer support team, 24-hour Sensor Line, and a global distribution network, PCB is committed to Total Customer Satisfaction. Visit www.pcb.com for more information. PCB Piezotronics, Inc. is a wholly owned subsidiary of MTS Systems Corporation. Additional information on MTS can be found at www.mts.com.
Jennifer Carlo
PCB Piezotronics, Inc. - Marketing Manager
(800) 828-8840
More from Safety & Security Equipment