New ML-CUX MULTILAM Contact Element Comes in Rectangular Mounting Groove
Press Release Summary: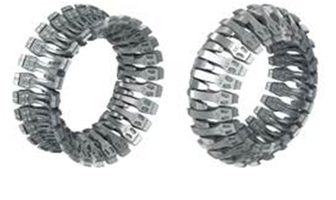 ML-CUX MULTILAM Contact Element is designed for high-power contact applications such as power transmission and distribution. Unit can be used in straight groove with large diameters in switchgears, transformers, circuit breakers and isolator switches. The contact element comes with high current rated and short circuit carrying capacity.
---
Original Press Release:
Stäubli Electrical Connectors Launches ML-CUX MULTILAM at IEEE PES T&D
The innovative mechatronic solutions provider sets a new standard with its ML-CUX: The high-power contact solution of the future
WINDSOR, Calif. (April 4, 2018) – Stäubli Electrical Connectors, Inc. (formerly Multi-Contact USA) is unveiling a brand new line to complement its industry-renowned, highly reliable solutions for power transmission and distribution at the IEEE PES T&D Conference and Exposition (booth #802) in Denver, April 17 – 19.
The new ML-CUX MULTILAM is specifically built for high-power contact applications, including power transmission and distribution that require a high operating range and high power density.  It is ideal for replacing multiple rows of competing contact elements with a single row of ML-CUX. The special construction allows a simple use of MULTILAM in a straight, cost-effective groove, even with larger contact diameters. It can be used in switchgears, transformers, circuit breakers, isolator switches and feedthroughs. The ML-CUX features: 
·         Two-component contact element
·         High rated current and short circuit current carrying capacity
·         Large operating range
·         Simple assembly in rectangular mounting groove
·         Reduction of total cost of ownership
·         Very high lifespan with consistent performance
·         100% tested product properties
"At numerous points in switchgears, transformers, circuit breakers, isolator switches and feedthroughs, there are detachable connections and connectors in which contact elements are required to transfer extremely high currents, particularly in the event of short circuit," said Christian España, Sales and Marketing Manager at Stäubli Electrical Connectors. "This new generation of MULTILAM offers material savings along with a compact design that creates maximum efficiency, durability and flexibility in a way that has not existed before and that reduces the overall operating costs of systems for customers."
The latest development from Stäubli consists of a stainless steel spring carrier band with louvers attached with rivets. The carrier band is optimized for top-quality mechanical properties, while the louvers' design is chosen for its electrical properties. The ML-CUX offers quality and longevity with an industry leading price to performance ratio. It is able to withstand extreme current peaks and has a short-circuit current carrying capacity up to 4.4 kA/cm. The higher current carrying capacity allows for a significantly more compact design, so the connectors can be implemented more easily even in smaller systems.
Over the past 40 years, Stäubli Electrical Connectors has established itself as an industry leader in high-quality connectors, providing innovative solutions for customers across the globe. All Stäubli Electrical Connectors products benefit from the company's innovative MULTILAM technology, which features specially formed and resilient contact elements. Constant spring pressure from MULTILAM louvers ensures continuous contact with the contact surface, resulting in a constantly low contact resistance. This technology allows Stäubli to create solutions for connectors within the most severe constraints for up to 1 million mating cycles.
To schedule an interview with Stäubli experts while visiting IEEE PES, please contact Carlos Groth using the contact information below: 
Carlos Groth
Senior Designer – Marketing
Phone: (707) 838-0530 ext. 128
Visit www.staubli.com/electrical for more information on the company and products.
About Stäubli Electrical Connectors – North America
Stäubli Electrical Connectors – North America's headquarters is located in Windsor, California. Its product range includes interconnection systems for the most demanding applications in aerospace, medical, robotics, solar energy, general industry and test & measurement including plugs and sockets designed for high performance, high mating cycles, low insertion and extraction forces, and that are ideally suited for low- and high-current applications. Stäubli serves customers worldwide who aim to increase their industrial productivity without compromising quality, reliability or safety.
Stäubli is a global mechatronics solution provider with three core activities: Connectors, Robotics and Textile. We are an international group that currently operates in 29 countries, with agents in 50 countries on four continents. Our global workforce of 4,500 shares a commitment to partnering with customers in nearly every industry to provide comprehensive solutions with long-term support.