New Miniature Stainless Steel Ballscrew Stocking Program from KSS Offers Quick Deliveries of Corrosion Resistant Ballscrew Assemblies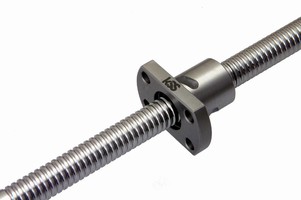 Fort Mill, SC, March 15, 2008 -- Designed for moist or otherwise corrosive environments, The Precision Alliance and KSS, now offers stainless steel ballscrews via a special stocking program for quick delivery. These ballscrews are stocked in 6mm, 8mm, and 10mm diameters and 1mm and 2mm leads with other diameters and leads available upon request.KSS manufactures these ballscrews using SUS440C stainless steel that is induction or vacuum hardened for long life.

The stainless steel offers corrosion resistance that is more environmentally friendly than most corrosion resistant coatings. Additionally, because the base material is corrosion resistant, machining operations can be performed on the ballscrew without compromising its corrosion resistance.

KSS is the foremost manufacturer of miniature ground ballscrews, miniature rolled ballscrews, and actuators. Manufacturing capabilities include ballscrews as small as 1.8mm in diameter and leads as fine as 0.5mm.

For additional details visit www.tpa-us.com or contact Todd Kanipe at The Precision Alliance at 803-396-5544 and tkanipe@tpa-us.com.

The Precision Alliance is a global marketing and manufacturing alliance created to provide complete linear motion products to the automation industry and answer the ever-increasing demand for higher precision and lower costs. The Precision Alliance offers designers the widest variety of motion components and when desired, complete subassemblies at both ends of the accuracy spectrum. The Precision Alliance is your single source for linear motion solutions.

More from Communication Systems & Equipment