New Miniature Media Converters Housed in Mini Chassis
Press Release Summary: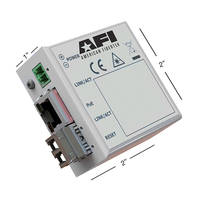 AFI9HMEC series measures approximately 2" by 2" by 1" is smaller than a mobile phone and is available in PoE and non-PoE versions
Offers 10/100 Mbps and Gigabit speed models
PoE models delivers up to 30 watts
---
Original Press Release:
AFI Introduces True Miniature Media Converter
AFI Responds to Demand for True Full – Featured Miniature Media Converter
St Petersburg, FL August 12, 2020, American Fibertek, (AFI) of St. Petersburg, Florida, a USA-based manufacturer of fiber optic transmission and networking equipment, is expanding their media converter offering worldwide by offering one of the smallest hardened media converters available today. The AFI9HMEC Series Ultra Mini Media Converter measures approximately 2" by 2" by 1" is smaller than a mobile phone and additionally is available in PoE and non-PoE versions.
Housed in a mini chassis, these DIN rail mountable devices are ideally suited for connecting field-based equipment such as IP CCTV cameras and industrial controllers to Ethernet networks over long distances using multimode or single-mode fiber. Fiber connectivity is determined by separate SFP device for number of fibers connector and distance, providing application and site flexibility. In addition to its beneficial small size, the AFI9HMEC Series offers both 10/100Mbps and Gigabit speed models, The PoE models deliver up to 30 watts and meet the IEEE802.3AT standard.
"We've seen in increased demand for a very small size media converter to fit very confined spaces in the field in many IP video surveillance situations. Even our existing media converter variants were not small enough. We challenged the engineering team to make it even smaller, and the AFI9HMEC Series was the result," stated Donna Poulos, AFI President. This one product family covers so many applications. We believe it will have great appeal to the Security Market," said Poulos.
These hardened media converters work in all environmental extremes and are guaranteed to work for the life of the installation. The entire AFI9HMEC Series is TAA compliant and the company believes they will have great appeal to federal, state and local entities who require TAA compliance for their product requirements.
American Fibertek, offers an extensive line of fiber optic video and data transmission equipment that is uniquely designed to meet the needs of the Security markets. Full product line details are available at www.americanfibertek.com. Call direct 732-302-0660 or email marketing@americanfibertek.com for details.
For more information, please contact Matt Poulos or e-mail AFI at marketing@americanfibertek.com You may also find AFI on the World Wide Web at americanfibertek.com
Contact:
Matthew Poulos
Vice President of Operations, AFI
800-323-0600
email: mattp@americanfibertek.com
More from Controls & Controllers