New Mini Vacuum Chamber Features Stainless-steel Gripping Interface
Press Release Summary: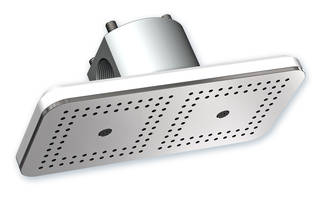 CVGM series handles light and porous objects, such as protective masks as well as fabric or leather cut-outs
Weighs 300 g and measures 130 x 60 mm and can be integrated in a automated system
ideal for robotics, cobotics, packaging, food processing or plastics processing
---
Original Press Release:
Coval Introduces a Vacuum Chamber for Gripping Protective Masks
Coval's CVGM series mini vacuum chamber is designed to handle light and porous objects, such as protective masks, but also fabric or leather cut-outs.
Ultra-light and compact, weighing only 300 g and measuring only 130 x 60 mm, the Coval CVGM vacuum chamber can be easily integrated in a automated system. It is ideal for robotics and cobotics. The chamber has a modular design and features a stainless-steel gripping interface that can be easily dismantled to allow frequent cleaning.
On request, COVAL develops customized solutions for automated applications in different sectors, such as packaging, food processing or plastics processing. Coval's experience as a supplier of components for vacuum automation and complete grippers, enables it to assist manufacturers in defining the best technical solution. Coval's reactivity meets the precise demands and constraints from customers and the market: the CVGM vacuum box was designed in response to the Covid-19 epidemic.
Coval solutions are used all along the production chain, from the individual handling of objects, to the palletization of complete layers at the end of the line.
www.coval-inc.com
Established in the south of France, COVAL SAS designs, produces and markets high-performance vacuum components and systems throughout the entire world for industrial applications in all lines of business. COVAL is an ISO 9001 V2015 certified company that innovates on a global scale in the area of vacuum handling using optimized components with integrated, intelligent and reliable features. Its solutions can be adapted to any industrial context and their primary goal is to improve productivity with safety in mind. COVAL's clients are present in all major industrial fields in which vacuum handling is critical for efficiency and productivity. These fields include packaging, automotive, plastic processing, aeronautics, and palletizing. COVAL markets its products and services throughout Europe as well as in North and South America through its subsidiaries and its network of authorized distributors.
Facts and Figures Company
French company founded in 1986
Company size: 135+ employees
2018 revenue: €17 million
25 distributors in France and 35 international
5 subsidiaries: China, Germany, Italy, Spain, U.S.A.
Production site and head office: Montélier, France
Coval Vacuum Technology Inc.
901 Jones Franklin Road
Suite 100
Raleigh, NC 27606
Uunited States
Joe Reams
Phone: +919 233-48-55
joe.reams@coval.com
Coval
ZA des petits champs
26120 Montélier
Stephane Garcia
Phone: 06 88 84 54 09
stephane.garcia@coval.com
Montelier
Related