New MicroMax VIM LED Driver Can be Placed Inside Coves, Light Fixtures or SEG Frames
Press Release Summary: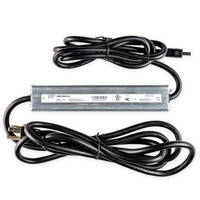 The MicroMax VIM LED Driver features a Edison plug input and barrel plug output. The units allow full-capacity output that enables users to power lighting at full load without derating power supply. The product is UL Listed and meets the standards of Class 2 installations. It is offered with 179 mm x 33.3 mm x 24.1 mm dimensions and provides 24 VDC - 90W full-capacity output.
---
Original Press Release:
Environmental Lights and ERP Power Introduce MicroMax VIM
Compact UL Listed LED driver with Edison plug input and barrel plug output
SAN DIEGO, Jan. 22, 2019 /PRNewswire/ -- Environmental Lights, a leader in LED lighting solutions, and ERP Power LLC (ERP), a leading provider of small, smart and connected LED drivers for the lighting industry, introduced the new MicroMax VIM LED Driver.
The MicroMax VIM is the result of a collaboration combining Environmental Lights' extensive lighting engineering experience with ERP's innovative LED driver technology in order to create a robust and compact LED driver that simplifies installations and maximizes the amount of power you can use on UL Class 2 standard. The drivers feature full-capacity output with an Edison plug input and barrel plug output for plug-and-play connectivity.
"We look forward to partnering with ERP for the launch of the new MicroMax VIM drivers, which are ideal for LED installations where usability and simplicity are crucial," stated Jordan Brooks, President of Environmental Lights.
"Together with Environmental Lights, we are redefining what small and powerful means in the LED lighting industry," said Jeffrey Frank, CEO of ERP Power. "Using a standard plug for AC input and standard connector for DC output dramatically simplifies and cost-effectively accelerates the deployment of cove lighting, silicone edge graphics, and other Class 2 lighting installations."
MicroMax VIM power supplies are compact, but they pack a powerful punch. High-quality engineering allows full-capacity output so users can power lighting at full load without derating the power supply. The MicroMax VIM drivers are designed with the smallest size constraints in mind, so they can be placed inside coves, light fixtures or SEG frames. They are UL Listed to meet the rigorous standards of Class 2 installations.
Efficient and Compact
Edison plug input and barrel plug output
24 VDC - 90W full-capacity output
179 mm x 33.3mm x 24.1 mm
UL Listed Class 2
MicroMax VIM drivers are available exclusively on EnvironmentalLights.com or by calling 888-880-1880.
About ERP Power
Established in 2004, ERP designs and manufactures small, smart and connected LED driver power electronics for architectural, commercial and industrial lighting applications. Powerful ERP products deliver an industry-leading combination of compact size, extensive dimmer compatibility, wireless controls, programmable output, and high efficiency at competitive cost. Headquartered in Moorpark, CA, ERP owns and operates its own ISO 9001 certified manufacturing facility to ensure quality of design, sourcing, production and testing. Learn more online at www.erp-power.com or by emailing SaveEnergy@erp-power.com.
About Environmental Lights
Environmental Lights was founded in 2006 in San Diego, California, and has been listed on the Inc. 5000 as one of the fastest-growing private companies in America for six years in a row. We transform environments with LED lighting technology by engineering our customers' visions into innovative solutions. We partner with our customers from project inception, through planning, specification and installation of their LED lighting systems to ensure we create solutions that match their exact needs. Our work transforms environments in an array of industries including retail display, entertainment, trade show/exhibit, hospitality and casino gaming.
Learn more at EnvironmentalLights.com or by speaking with a sales engineer at (888) 880-1880.
Media Contact:
Michael Krupinsky
Marketing Director
Environmental Lights
208081@email4pr.com 
858-798-9634
More from Material Handling & Storage