New MF-MSHT Resettable Fuse is UL, TUV, and RoHS Compliant
Press Release Summary: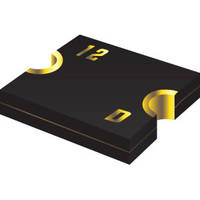 Features low thermal derating factor and hold current range of 200 mA – 1.75 A
Constructed using blend of high melting point polymer materials and carbon-based conductive fillers
Available in 1812 surface mount package and has maximum voltage range of 9 V – 42 V
---
Original Press Release:
Bourns Adds 1812 Package Size Model Series with 125 °C Ratings to its Multifuse® Line of PPTC Overcurrent Protectors
New High Temperature Rated Polymer PTCs Deliver Low Resistance and Support Currents Up to 1.75 A and Voltages Up to 42 V
RIVERSIDE, Calif., March 1, 2021 - Bourns, Inc., a leading manufacturer and supplier of electronic components, today announced the addition of a new model series to its leading Multifuse® Polymer Positive Temperature Coefficient (PPTC) resettable fuse product line. The new Bourns® Multifuse® MF-MSHT models are high temperature rated, automotive grade AEC-Q200 compliant and available in a standard 1812 surface mount package. In addition, the MF-MSHT model series features a low thermal derating factor, a maximum voltage range of 9 V – 42 V, and a hold current range of 200 mA – 1.75 A.
Increasing electronics content in vehicles and connected industrial and consumer IoT-based appliances are requiring more robust overcurrent protection solutions that can support higher ambient operating temperatures and reliable, long-life performance. Bourns designed its latest Multifuse® MF-MSHT model family to provide effective overcurrent protection with a reduced risk of generating nuisance tripping at elevated temperatures up to 125 °C in these high-growth applications. Providing additional design flexibility, these new high temperature rated PPTCs give designers a wider selection of overcurrent protection solutions that help them best match their application specifications.
"Designers of a variety of automotive grade applications will find the 125 °C rating of the MF-MSHT series a robust choice for overcurrent protection that supports their broad temperature requirements", said Lee Bourns, Product Line Manager for Overcurrent Protection at Bourns.
The new polymer PTC models are constructed using a proprietary blend of high melting point polymer materials and carbon-based conductive fillers to achieve high reliability overcurrent protection performance particularly tailored for high temperature environments. The proprietary conductive polymer formulation also provides an elevated level of resistance to commonly found oils, lubricants and solvents that can cause adverse effects to consumer-grade PTCs often used in industrial and transportation applications.
Bourns adds, "The polymer we use in our high temperature families is advantageous to demanding designs as it offers heightened protection against solvent penetration. Solvents can cause resistance drift in a variety of polymer-based resistive components including PPTCs. This increase in resistance may, in turn, generate undesirable nuisance tripping by the PPTC because less current is required to trip the device. Our high temperature rated MF-MSHT model family helps address this concern for certain harsh environment system designers."
The new Bourns® Multifuse® MF-MSHT Polymer PTC model series is available now, is UL, TÜV, and RoHS compliant*, and is produced in a Bourns IATF 16949 certified facility.
For more detailed product information on Bourns' complete line of Multifuse® high temperature rated PPTC overcurrent protectors, please see: www.bourns.com/products/circuit-protection/resettable-fuses-multifuse-pptc
About Bourns
Bourns, Inc. is a leading manufacturer and supplier of position and speed sensors, circuit protection solutions, magnetic components, microelectronic modules, panel controls and resistive products. Headquartered in Riverside, California, USA, Bourns serves a broad range of markets, including automotive, industrial, consumer, communications, medical (low/medium risk)***, audio and various other market segments. Additional company and product information is available at www.bourns.com.
*RoHS Directive 2015/863, Mar 31, 2015 and Annex.
***Bourns® products have not been designed for and are not intended for use in "lifesaving," "life-critical" or "life-sustaining" applications nor any other applications where failure or malfunction of the Bourns® product may result in personal injury or death. See Legal Disclaimer Notice www.bourns.com/docs/legal/disclaimer.pdf
More from Agricultural & Farming Products