New MEMS-VCSEL Laser Sources Feature a Coherence Length of Over 100 mm
Press Release Summary: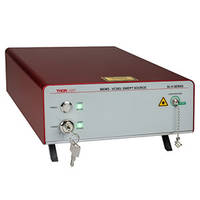 Thorlabs' MEMS‐VCSEL SL131090 and SL132120 swept‐wavelength Laser Sources use MEMS tunable vertical cavity surface emitting laser technology. The units feature an active power control and maintains constant output power. The units offer sweep rates of either 100 kHz or 200 kHz. They are equipped with an integrated Mach-Zehnder interferometer that delivers an output digital k‐clock signal. The k-signal's delay and output power can be adjusted up to ±8 ns and ±5% respectively.
---
Original Press Release:
Thorlabs Releases New MEMS‐VCSEL Swept‐Wavelength Laser Sources
Newton, NJ – August 16, 2018 – Thorlabs announced today that it has released next‐generation versions of its 1300 nm MEMS‐VCSEL Swept‐Wavelength Laser Sources. With a record‐breaking coherence length of over 100 mm and sweep rates of either 100 kHz or 200 kHz, the SL131090 and SL132120 are the only commercially available MEMS‐VCSEL laser sources on the market. Based on a patented microelectromechanical system (MEMS) tunable vertical cavity surface emitting laser (VCSEL), these light sources include an active power control that maintains constant output power over the lifetime of the laser.
All drive electronics and trigger signals needed to seamlessly integrate these sources into custom swept‐source OCT systems are provided. An output digital "k‐clock" signal generated by the integrated Mach‐Zehnder interferometer (MZI) and drive electronics can be used as a data acquisition sampling clock, with no further resampling in k‐space required. The k‐clock signal delay and maximum output power of the laser can be user adjusted up to ±8 ns and ±5%, respectively.
"Designed for integration into high‐speed and long‐range optical coherence tomography (OCT) systems requiring superior sensitivity, these single mode benchtop sources are also well‐suited for other applications, including metrology and spectroscopy," said Sebastian Schäfer, Application Specialist for Thorlabs' OCT Imaging Systems and Swept‐Wavelength Laser Sources. "The Thorlabs OCT application team would be pleased to discuss the best components for your imaging or metrology application."
For more information on Thorlabs' new SL13 MEMS‐VCSEL Swept‐Wavelength laser sources, please visit thorlabs.com.
About Thorlabs: Thorlabs, a vertically integrated photonics products manufacturer, was founded in 1989 to serve the laser and electro‐optics research market. As that market has spawned a multitude of technical innovations, Thorlabs has extended its core competencies in an effort to play an ever increasing role serving the Photonics Industry at the research end, as well as the industrial, life science, medical, and defense segments. The organization's highly integrated and diverse manufacturing assets include semiconductor fabrication of laser diodes, optical amplifiers, lithium niobate modulators, quantum cascade/interband cascade lasers, and VCSEL lasers; fiber towers for drawing both silica and fluoride glass optical fibers; MBE/MOCVD epitaxial wafer growth reactors; extensive glass and metal fabrication facilities; advanced thin film deposition capabilities; and optomechanical and optoelectronic shops.
Contact:
Laurie Morgus, Ph.D. Physics
Marketing & Ecommerce Sales Manager
Thorlabs, Inc.
973‐300‐3000
lmorgus@thorlabs.com
More from Computer Hardware & Peripherals