New Mek PowerSpector BTL AOI System for Synchronized Inspection on Top and Bottom Side of PCBs
Press Release Summary: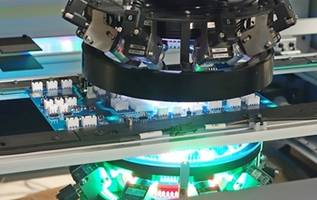 The new MEK PowerSpector BTL AOI System brings synchronized inspection to PCBs including both top and bottom. Applications range from inspection after the placement of SMT and THT components to reflow, wave and selective soldering. With new lighting technology the system uses 9 cameras per side with two heads inspecting the PCB simultaneously.
---
Original Press Release:
Mek to Showcase Latest Range of AOI Technology at SMTA GUADALAJARA 2018
Mek (Marantz Electronics), in partnership with their distributor Island SMT, will be showcasing a range of AOI technology at SMTA Guadalajara Expo & Tech Forum, Nov. 14 - 15, 2018 at the Expo Guadalajara.
The team will highlight the PowerSpector GTAz desktop systems, designed for maximum defect coverage whilst maintaining short programming times at the lowest cost. The PowerSpector GTAz is  the only desktop AOI in the market that can be equipped with 9 cameras: 1 top and 8 side cameras. For maximum flexibility, the optical unit is configurable to fit your needs today while providing upgrade possibilities for the future.
Mek offers a complete line of inspection equipment across a very wide range of applications and budgets:
Mek's flagship 3D AOI system, ISO-Spector M1A, is the industry's most advanced high-speed 3D SMT solder joints and components AOI and introduces an exceptionally convenient fast automatic programming method while achieving production ready inspection results with very short cycle times, The Artificial Intelligence of the system learns the production process values of assembled and reflowed PCB's then recognizes defects determined by hundreds of preset parameters based on CAD and Gerber data. This applies especially to solder joints, which are typically the most difficult and time consuming to program in AOI's
The newest addition to the Mek range, Mek PowerSpector BTL AOI system offers synchronized inspection of the top and bottom side of PCBs after Reflow, Wave or Selective soldering & placement of SMT & THT components.
Patented synchronized lighting technology delivers new capabilities. 9 cameras per side, with both heads inspecting the PCB at the same time, deliver fastest inspection times but without the high power lighting system of each head affecting the other inspection taking place. The elimination of flipping removes potential for stress on the assembly and improves long term reliability of solder joints.
The "Bottom Up/Top Down" SpectorBOX system is uniquely engineered to accommodate solder frames on return and/or feed conveyors. SpectorBOX offers bottom side, top side or simultaneous dual side inspection, deploying up to 18 cameras, Z axis positioning and auto-focus.  The design is optimized for the inspection of THT components to identify defects such as presence/absence, wrong polarity, colour, type, and bent pins. Various integration alternatives are greatly enhanced by its slim, compact mechanical design.
For more information on Mek and the entire range of products visit www.marantz-electronics.com, or visit them at SMTA Guadalajara to discuss your application requirements.
-ENDS-
About Mek (Marantz Electronics Ltd)
A former division of Marantz well known for its high-quality Audio/Video products, Mek Japan (Marantz Electronics Kabushiki Kaisha), developed its first AOI system in 1994. Developed to inspect PCB assemblies for correct component placement and soldering, the company's original AOI system was designed for use in Marantz factories. Proving to be a highly successful, cost-effective alternative to traditional human inspection, Mek developed its first-generation commercial system in 1996. With a steadily growing installed base, MEK Japan and its European/American headquarters, Mek, have sold over 7000 units worldwide to date. Now well established as a leading force in AOI technologies, the company also manufactures a 5D post-print SPI system which combines 3D and 2D image processing methodologies to deliver unprecedented defect detection.
More from Architectural & Civil Engineering Products