Industrial / Specific Purpose Computers
New Medical Computers with 21.5 in. P-cap Touchscreen
Press Release Summary: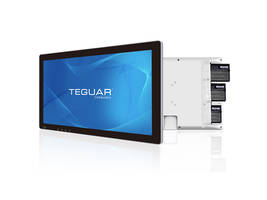 TME-5040-22 runs on an Intel Core i3/i5 Skylake processor
Features 3 hot-swappable batteries for 24/7 run time
Available with 13 I/O ports for simple integration with peripherals such as printers, scanners and keyboards
---
Original Press Release:
Medical Computer Customized for Telehealth TME-5040-22
Teguar's TME-5040-22 Medical Computer has a comprehensive list of features and several optional features that makes it ideal for telehealth and other healthcare applications. Teguar has worked with several healthcare providers to add unique upgrades to the TME-5040-22, making a customized solution.
We approach custom projects in one of two ways. In some cases, we build a computer from the ground up, starting with nothing but the client's project specifications. The other, more common scenario, is when we take a computer that meets most of the project requirements, and we modify it.
Below, we share two examples of how we modified the TME-5040-22 for telemedicine applications. The first step is to find a computer that will work for the project, so let's take a look at the standard features of the TME-5040-22 Healthcare Computer.
Key Features of the TME-5040-22 Medical Cart Computer
21.5" P-Cap Touchscreen
The projected capacitive touchscreen is IP65 waterproof rated, which means it can be directly sprayed with cleaning chemicals, for cleanings between each patient. The 21.5" widescreen touchscreen is great for teleconferencing with clinicians and patients.
Intel Skylake U Processor
The TME-5040-22 runs on an Intel Core i3/i5 Skylake processor. It is also available with a lower power Celeron processor. The lower power draw of the Celeron processor may be good for telehealth applications that move room to room, as the battery will last longer, but some healthcare software requires the higher powered CPUs.
Antibacterial Enclosure
The plastic housing is made with antibacterial agents that prevent bacteria from living on its surface. It is also chemically resistant to counteract the wear and tear of chemical wipe downs that occur on a daily basis in a healthcare setting. Learn more about medical-grade plastic >
Hot-Swappable Batteries
Designed to be pushed around on a medical cart, the TME-5040-22 features 3 hot-swappable batteries, for 24/7 run time. The batteries lock into place with a simple switch and can be swapped in seconds. This allows you to use a non-powered medical cart. Battery-powered medical carts are bulky and heavy, difficult to push around. They may also require you to power down your computer and peripherals, when the battery is depleted. 
Comprehensive Inputs & Outputs
The TME-5040-22 has 13 I/O ports, for easy integration with peripherals such as printers, scanners and keyboards. It also has a 24VDC powered USB output, which can be used to power peripherals. This computer also has an upgradable option for isolated LAN/USB/COM is also available.
Function Keys
The TME-5040-22 has four capacitive function keys: LED Reading Light, Touch Screen Lock, Touchscreen Unlock, and one Programmable Function Key. The touchscreen lock function allows you to clean the touchscreen without interfering with the touch screen or having to power down the unit. Putting the four keys on the front of the unit adds ease and convenience for clinicians or patients.
Combo Card Reader
The Combo Card Reader can read RFID and IC Cards. These can be used as security measures to quickly sign into your EMR software or provide access sensitive patient files. A reserved expansion area on the side of the unit will allow for an MSR reader or any other customized feature.
TME-5040-22 Customizations for Telemedicine
Telemedicine enables clinicians to treat patients from a distance. In both of the cases below, the two telehealth companies (who are not named for confidentiality reasons) connect specialized healthcare providers to patients in care facilities all over the country. Telehealth gives patients access to highly specialized medicine, without having to travel long distances.
Highly Specialized Telemedicine
Advancements in technology have given doctors the ability to treat patients from a distance, without ever even being in the same room as the patient. This allows doctors who are highly specialized in a certain disorder to provide care to more people with that disorder. This is the case with some neurological disorders and conditions. Neurologists may need to listen closely to the patient's speech, look closely at the patient's reflexes, and evaluate the patient's coordination.
Remote neurology requires an advanced camera and microphone. The TME-5040-22 has an optional built-in 2MP or 5MP webcam, but that wasn't enough. This company uses an HD camera that can pan, zoom, and tilt, that attaches to the top of a computer. The camera module also has a built-in omnidirectional microphone that can capture sound from nearly any angle.
The telemedicine provider needed a battery-powered, medical-grade computer, to easily move around a facility and interface with multiple patients each day. They didn't want to rely on an additional power supply for the camera module. The TME-5040-22 does have a powered USB output (24V), but this can only power specific peripherals and it was not the correct voltage for this HD camera module.
So, Teguar's product engineering team created a custom cable that could send power to the external HD camera, from the computer's power output that is powered by hot-swappable batteries. The COM ports have selectable power and can share power, either 5V or 12V, which is what the HD camera module needed. The solution saves cabling and reduces the overall size and weight of the entire system.
This telemedicine provider is happy with the solution and even uses another Teguar computer for a different telehealth application. We are currently working on another project with this customer and the TME-5040-22, which involves a customized handset that patients can use to further interact with doctors on the other side of the screen.
Teletherapy for Rural Areas
Another telehealth provider who uses a customized version of the TME-5040-22 connects nursing homes in rural areas, to healthcare providers that specialize in mental health. For this project, again, the customer wanted a higher definition camera, but they didn't require all the functionality as the first application. So, we simply upgraded the 2MP webcam to a 5MP webcam. The webcam is still built into the unit.
The application also required a speaker, so the patients can hear the clinician, but the 3 watt speaker was not quite loud enough. Since the computer is on a cart and would move around the facility, they didn't want an external speaker, so we integrated a dual 3 watt speaker into the I/O cover. We also added an omnidirectional microphone on the bottom of the computer.
The camera, speaker, and microphone all enhance the quality of video conferences between patient and clinician. Previously, this organization was using laptops and they required peripherals, cords, and a power supply. The TME-5040-22 puts it all into one sleek, compact unit.
Learn more about the TME-5040-22, or contact us to learn more about how we can build your customized computer solution.