New Medalist TPEs Processed on Conventional Injection Molding Equipment
Press Release Summary: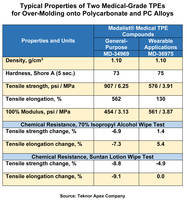 MD-34900 series compounds are available in 50, 60 and 70 Shore A grades and are for general medical over molding applications
MD-36975 grade is a 75 Shore A TPE designed for over molding in wearable devices
Provides cosmetic grips for medical device housings, handheld devices, instruments, seals and gaskets
---
Original Press Release:
Medical-grade TPEs for Over-molding Bond Effectively to PC and PC Alloys for Wearable Devices and Other Hard/Soft Applications
New Medalist® TPEs from Teknor Apex Offer Economical and Productivity Advantages over Silicones and Include Formulations with Enhanced Chemical Resistance
Pawtucket, RI, U.S.A., January 7, 2020: A new series of Medalist® medical-grade thermoplastic elastomer (TPE) compounds for over-molding exhibit strong adhesion to medical-grade polycarbonate (PC) and PC alloys and include formulations with enhanced resistance to chemicals encountered in wearable applications. Teknor Apex Company will introduce the TPEs at MD&M West (Booth 2121).
Medalist MD-34900 series compounds, available in 50, 60, and 70 Shore A grades, are for general medical overmolding applications, while the MD-36975 grade is a 75 Shore A TPE designed specifically for overmolding in wearable devices, with excellent resistance to the lotions and disinfectants that are typically encountered.
In a joint project with Covestro LLC, these materials were over-molded onto various medical grades of Makrolon® PC as well as Bayblend® and Makroblend® PC alloys, using both insert and multi-shot molding. The project included tests to evaluate adhesion, processability, and chemical resistance. Peel strength data showed the Medalist® compounds exhibiting excellent adhesion to Covestro's engineering thermoplastics. At MD&M West, the two companies will present a co-authored white paper with details of the experiments and product performance. (Covestro will exhibit at Booth 2221.)
Teknor Apex recommends the new Medalist compounds for wearable devices, where TPEs contribute comfort; 'soft-touch' or cosmetic grips for medical device housings, handheld devices, and instruments; and seals and gaskets. The accompanying table presents typical properties of representative grades from each series.
"Medalist TPEs are excellent alternatives to liquid silicones used in over-molding because they do not require the use of a primer, have a shorter cycle time (avoiding the lengthy curing process), and can be processed on conventional injection molding equipment," said Ross van Royen, Senior Market Manager for Teknor Apex.
The new compounds for the medical device industry are an outgrowth of work carried on by Teknor Apex to develop over-molding TPE formulations for consumer products. "We've made substantial investments in adhesion-modified technologies for TPEs, increasing our understanding of adhesion, developing more cost-effective formulations, and improving the bonding capabilities of these products in complex part designs," said Mr. van Royen. The company has launched an online resource for overmolding to share their insights: www.teknorapex.com/overmolding-academy.
The Medalist MD-34900 series and MD-36975 compounds are available worldwide. As medical-grade TPEs, they are subject to strict formulation controls, are made only with FDA-listed food-grade ingredients, are ISO 10993-5 compliant for biocompatibility, and are compliant with CONEG, RoHS, and California Proposition 65 requirements. Teknor Apex produces these compounds in multiple ISO-13485-certified facilities, ensuring security of supply.
About Teknor Apex
Teknor Apex Company, a privately held firm founded in 1924, is one of the world's leading custom compounders of plastics. Teknor Apex produces flexible and rigid vinyl, thermoplastic elastomers, nylons, color masterbatches, specialty chemicals, and hoses. The company is headquartered in Pawtucket, RI, U.S.A. and operates thirteen manufacturing facilities worldwide in the United States, Belgium, Germany, China, and Singapore. To learn more visit: www.teknorapex.com.
The Thermoplastic Elastomer Division of Teknor Apex Company offers the broadest portfolio of TPE compounds available from a single source. The division compounds TPEs at eight locations in the U.S., Europe, and Asia under the brands: Elexar® (electrical and electronics applications), Medalist® (medical devices), Monprene® (consumer and industrial products), and Sarlink® (transportation).
Reader Inquiry Information: Americas: Teknor Apex, 505 Central Avenue, Pawtucket, RI 02861 U.S.A. Tel: 1-401-725-8000. Tel. from U.S. only: 1-866-GET-TPEs (1-866-438-8737). Fax: 1-401-728-5680. E-mail: [email protected]. Europe: Teknor Apex, Mijnweg 1, 6167AC, Geleen, Netherlands. Tel: 31 (0) 46-7020950. Email: [email protected]. Asia: Teknor Apex Asia Pacific, 41 Shipyard Road, Singapore 628134. Tel: 65-6265-2544. Fax: 65-6265-1821. Email: [email protected].
Makrolon®, Bayblend® and Makroblend® are registered Trademarks of Covestro LLC.
Press Contact:
Martino Communications Inc.
Robert J. Martino
Tel: 1-203-321-0787
[email protected]