New Mechanically and Electrically Filtered, Single–Axis, IEPE Accelerometer, Model 3168D2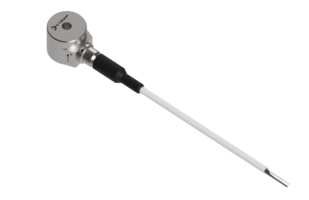 New Mechanically and Electrically Filtered, Single–Axis, IEPE Accelerometer, Model 3168D2
August 20, 2018 – Chatsworth, California, USA – Dytran Instruments, Inc. (www.dytran.com) a leading manufacturer of piezoelectric and DC MEMS accelerometers, force and pressure transducers and associated electronics, is pleased to introduce Model 3168D2 for HUMS and flight test applications.
This innovative sensor is a single-axis IEPE quartz accelerometer with a thru-hole design for 360-degree cable orientation. Model 3168D2 features mechanical and electrical filters that effectively eliminate ultra-high frequency energy that can cause signal saturation (common in high-speed gearbox applications). The filters also act as a barrier to "zero shift" phenomena in the data by protecting the sensing element from high amplitude, high-frequency mechanical impacts. In addition, the filters suppress the natural frequency of the sensor to assure correct "in-band" vibration measurements during all test applications. The sensing element is internally isolated from the outer case to prevent ground loops and is enclosed by a Faraday shield that prevents EMI/RFI interference.
The sensitivity is 10 mV/g, the frequency range is 1Hz to 10,000Hz (±3dB). The rugged, stainless-steel case is hermetically sealed for reliable operation in high humidity or wet environments. The integral Teflon® cable for Model 3168D2 terminates in twisted pair shielded flying leads and is available in various lengths.
Typical uses for Model 3168D2 include the following applications: high-frequency aircraft/airframe vibration monitoring, Health and Usage Monitoring Systems (HUMS) and transmission vibration measurements as well as any general-purpose, high energy applications where signal saturation, shock overload and zero shift are potentially affecting signal integrity.
For more information about Model 3168D2, please contact sales@dytran.com.
About Dytran Instruments, Inc.:
Dytran Instruments, Inc. is the industry leader in innovative sensor technologies for product development testing and embedded solutions. Dytran specializes in designing and manufacturing custom high-end sensors, including piezoelectric and MEMS accelerometers, dynamic force and pressure transducers, USB accelerometers with software included, and digital bus-based sensors. Our products are used extensively in aerospace, automotive, military, R&D, test and measurement and industrial applications. Founded in 1980, we are an AS9100 and ISO17025 / A2LA certified company. Dytran has been serving the test and measurement community with innovative products and outstanding customer service for over 30 years. With a worldwide network of distributors and representatives, Dytran is ready to work closely with customers in developing unique solutions to their test and measurement challenges.
Learn more at www.dytran.com and on Linkedin, Facebook and Twitter.
Editorial Contact:
Judith Villalobos
Marketing Specialist
Dytran Instruments, Inc.
21592 Marilla Street
Chatsworth, CA 91311
Tel: 818-700-7818
https://www.dytran.com/Model-3168D2-05-Airborne-Accelerometer/
Contact This Company Download Spec Sheet
More from Sensors, Monitors & Transducers