New MangataLites Wearable Safety Lights are Designed for Nighttime or Low-Lit Areas
Press Release Summary: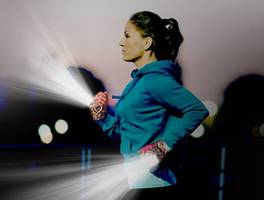 The MangataLites Wearable Safety Lights are suitable for walkers, runners, cyclists, hikers, outdoorsman and homeowners when light is minimal. They are offered in various colors, designs and sizes and accomplish everyday tasks easily.
---
Original Press Release:
RunLites® Unveils New Technology Improving Way of Life & Visibility in the Dark
~ Hands-Down The Most Powerful, Portable, Hands-free Lighting Solution on the Market ~
PHILADELPHIA (PRWEB) JANUARY 25, 2019 - RunLites®, a leader in the consumer electronics industry, is expanding its line beyond just runners. The company announced today the newest addition to the line called MangataLites®! MangataLites is a wide-ranging line of wearable tech. The rechargeable and wearable safety lights improve visibility when lighting is minimal for walkers, runners, cyclists, hikers, hunters, outdoorsman, homeowners and anyone wanting direct light without limiting the use of their hands.
MangataLites make it easier and safer to do everything in the dark through the line's unmatched performance and durability. These powerful, portable accessories provide a lighting solution for activities performed with little or no light. "We've listened to our customers and responded…the world needs lightweight rechargeable lights, not only for runners," said Founder Mary Tiffin. "We've created this special line for our dog walkers, hikers, bikers, and those working around the house. Anyone who needs hands-free access to light."
This wearable tech replaces clunky headlamps and clip-on lights or the need to hold a traditional flashlight. MangataLites are illuminating accessories designed to make it easier and safer to accomplish everyday tasks by allowing consumers to remain hands-free while in the dark. MagnataLites come in a variety of colors, designs and sizes to fit anyone's needs from children who love superheroes to adults looking to blend in with camouflage styles as well.
The company's original website, GoRunLites.com, has been re-imagined and can also be found at MangataLites.com to better reflect the expanded product line now being offered. In addition, the company is offering the chance for its customers to be a source of light for others too. Through its Share the Light Initiative, RunLites will be shining a spotlight on a charitable organization every month of the year! These charitable organizations will be called Mangata Light Sharing Partners and will provide wonderful opportunities to give back to those in need. At checkout, consumers will be asked to round up to the nearest dollar to donate to Mangata's "Share the Light" campaign. Each month, customers will have the option to make a small contribution to a "Light Partner" of their choosing. All Light Partners are 501 C3 organizations, which will make a big difference in the lives of those it helps.
About RunLites & MangataLites.: RunLites & MangataLites are a patented wearable technology solution offering powerful, hands-free personal LED lighting. A next-generation wearable device designed for nighttime or low-lit areas, RunLites replace clunky and uncomfortable headlamps, vests, clip-on lights and handheld lights. With two brightness settings and a rechargeable USB battery, RunLites are ideal for runners, walkers, cyclists, hunters, homeowners and anyone who wants to direct light without limiting the use of their hands. For more information, visit GoRunLites.com and MangataLites.com or follow the lites online at facebook.com/RunLites and @Runlites on Twitter. For more information, hi-res images, samples, or to arrange an interview, please contact Jennifer Drouin at runlitesjen@gmail.com or info@gorunlites.com.
Contact Information
Jennifer Drouin
RunLites
+1 5707482811
More from Fluid & Gas Flow Equipment