New MAMG-100227-010 Amplifier Module with 22 dB Power Gain
Press Release Summary: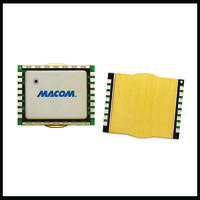 Available with fully-matched and covers wide 225–2600 MHz frequency range
Features 28 V operation and 36 V
Ideal for tactical military communications, LMR and wireless markets
---
Original Press Release:
Richardson RFPD Introduces New Broadband, Multistage GaN-on-Si Power Amplifier Module with Flexible Mounting Capability from MACOM
Top- and bottom-accessibility increases mounting and heatsinking design agility
September 9, 2019 – Geneva, Ill.: Richardson RFPD, Inc. announced today the availability and full design support capabilities for a new 10 W hybrid GaN module from MACOM Technology Solutions Inc.
The MAMG-100227-010 is a broadband, two-stage GaN-on-Si hybrid power amplifier module in an air-cavity laminate package. The 10 W device is fully-matched and covers wide 225–2600 MHz frequency range.
A gold-plated copper heat sink is attached to the bottom side of the laminate substrate. The package can be accessed from the top or the bottom allowing for "live bug" or "dead bug" mounting. This mounting flexibility enables streamlined designs for smaller, lighter radios.
The new module is ideal for use in tactical military communications, LMR, and wireless (public safety) markets.
Additional key features of the MAMG-100227-010 include: 
Fully-matched at input and output
28 V operation (typ.); 36 V (max)
CW output power >10 W
40% PAE
22 dB power gain
Compact size: 14 x 18 mm2
To find more information, or to purchase this product today online, please visit the MAMG100227-010 webpage. The device is also available by calling 1-800-737-6937 (within North America); or please find a local sales engineer (worldwide) at Local Sales Support. To learn about additional products from MACOM, please visit the MACOM storefront webpage..
About Richardson RFPD
Richardson RFPD, an Arrow Electronics company, is a global leader in the RF, wireless, IoT and power technologies markets. It brings relationships with many of the industry's top radio frequency and power component suppliers. Whether it's designing components or engineering complete solutions, Richardson RFPD's worldwide design centers and technical sales team provide comprehensive support for customers' go-to-market strategy, from prototype to production. More information is available online at www.richardsonrfpd.com.
For Details Contact:
Mark Vitellaro
Director of Strategic Marketing
mvitellaro@richardsonrfpd.com
P 630 262 6800
More from Material Handling & Storage