New MadgeTech Data Logger Software Packed with Features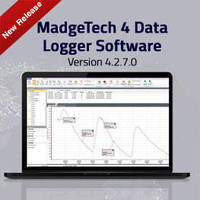 Announcing the release of MadgeTech Data Logger Software version 4.2.7.0 (MadgeTech Secure version 4.2.6.0.). This release includes several new languages to choose from, catering to customer needs around the world, as well as advanced reporting capabilities for sterilization and pasteurization cycle monitoring.



The medical, pharmaceutical, sterilization and meat and food industry users will also see many useful reporting enhancements, helping to streamline calculations that are necessary for compliance.



Enhanced Multilingual Support



For international MadgeTech users and organizations, the software has been fully translated and may now be installed in simplified Chinese, French, German, Portuguese, Finnish, Japanese, Korean or Spanish.



Japanese and Portuguese had been included in a previous release, but now all support materials and Help files have been translated and included as well, for all languages. These new languages were implemented in response to growing customer demand in many industries, on all continents.



Multiple Cooling Flags



Other feature enhancements in this release include the ability to set multiple cooling flags within one dataset. This feature is of particular interest to the meat and poultry industry, making it possible for a single data logger to monitor the cooling for multiple, consecutive cycles. Being able to configure multiple flags for the cooling cycles saves time and simplifies the monitoring and reporting process required for validation.



Sterilization Graph Reports



For sterilization and pasteurization needs, calculations such as F0, Fd, Fh and A0 can now be viewed on report graphs. This gives users a visual representation of the entire process and more detail regarding the elimination of pathogens. Advanced calculations are easier to view, present and save, as a record for future verification.



All MadgeTech Data Logger Software is compatible with the Microsoft Windows platform, including the latest release of Windows 10.







More from Laboratory and Research Supplies and Equipment