New MacroBuilder(TM) Software Offers Intelligent Automation for Asylum Research Atomic Force Microscopes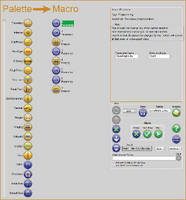 (Santa Barbara, CA), Asylum Research, the technology leader in scanning probe/atomic force microscopy (AFM/SPM), provides its full-function MFP-3D(TM) and Cypher(TM) Atomic Force Microscopes (AFMs) with superior capabilities which require no programming to perform advanced imaging and measurements. For more advanced, automated, and out-of-the-box experiments, Asylum also provides a user-driven programming language called IGOR. While programming can be a daunting task for the novice, our new MacroBuilder interface allows users to easily implement IGOR customization like a pro - without writing any code - by simply dragging MacroBuilder "Modules" together to form Macros that can automate many measurements and analyses and be saved for repeated use.

Each Module performs a specific operation, such as moving the tip to a position, collecting thermal data, or displaying the next saved force plot. Automation can range from simple tasks where the user might want to make a sequence of measurements - say take a series of images with different setpoints or a series of force curves at different positions on a sample - to more sophisticated procedures where the MacroBuilder software makes intelligent decisions; for example, MacroBuilder can decide to change subsequent measurement routines depending on the outcome of previous
experiments. An additional benefit is that automated data acquisition can vastly improve throughput and even increase repeatability by removing arbitrariness from the imaging and measurement process. The options are virtually limitless with over 50 Modules included with the Asylum software and more being actively added. MacroBuilder comes standard in the Asylum Research software at no additional cost to the user. No other AFM system offers this kind of customizability and automation, another example of the power and flexibility of Asylum Research AFMs.

Commented Roger Proksch, President of Asylum Research, "MacroBuilder is a major advancement for automating AFM experiments. We expect it will revolutionize the way researchers work by allowing our users to run experiments completely unattended, including decision-making by the software based on pre-set 'if-then' instructions. It has already made big changes in the way I use our AFMs - I am really excited to see what our users do with it."

About Asylum Research

See what our users are saying about Asylum Research at:
http://www.asylumresearch.com/References/Testimonials.shtml

Asylum Research is the technology leader in atomic force and scanning probe microscopy (AFM/SPM) for both materials and bioscience applications. Founded in 1999, we are an employee owned company dedicated to innovative instrumentation for nanoscience and nanotechnology, with over 250 years combined AFM/SPM experience among our staff. Our instruments are used for a variety of nanoscience applications in material science, physics, polymers, chemistry, biomaterials, and bioscience, including single molecule mechanical experiments on DNA, protein unfolding and polymer elasticity, as well as force measurements for biomaterials, chemical sensing, polymers, colloidal forces,
adhesion, and more. Asylum's product line offers imaging and measurement capabilities for a wide range of samples, including advanced techniques such as electrical characterization (CAFM, SKPM, EFM), high voltage piezoresponse force microscopy (PFM), thermal analysis, quantitative nanoindenting, and a wide range of environmental accessories and application-ready modules.

Asylum's MFP-3D set the standard for AFM technology, with unprecedented precision and flexibility. The MFP-3D is the first AFM with true independent piezo positioning in all three axes, combined with low noise closed-loop feedback sensor technology. The MFP-3D offers both top and bottom sample viewing and easy integration with most
commercially-available inverted optical microscopes.

Asylum's new Cypher AFM is the world's first new small sample AFM/SPM in over a decade, and sets the new standard as the world's fastest and highest resolution AFM. Cypher provides low-drift closed loop atomic resolution for the most accurate images and measurements possible today, >20X faster AC imaging for images in minutes instead of minutes or hours, Spot-On(TM) automated laser and photodetector alignment for easy setup, integrated thermal, acoustic and vibration control, and broad support for all major AFM/SPM scanning modes and capabilities.

Asylum Research offers the lowest cost of ownership of any AFM company. Ask us about our industry-best 2-year warranty, our legendary product and applications support, and our exclusive 6-month money-back satisfaction guarantee. We are dedicated to providing the most technically advanced AFMs for researchers who want to take their experiments to the next level. Asylum Research also distributes third party cantilevers from Olympus, Nanoworld/Nanosensors, and our own MFM and iDrive(TM) tips.


More from Electrical Equipment & Systems