New MACH Mini Microfilm Scanner Features a CCD Line Array Camera with QuantumScan and QuantumProcess Software
Press Release Summary: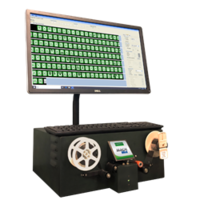 Offered in 16 x 17 x 7.5 in. footprint with weight of 30 lbs
Capable of scanning up to 350 images per minute from 100 or 215 ft open spool or 3M microfilm cartridge
Features 10 TB of data storage and IMAGEhost platform that allows owners to scan, process, host and share images in a password-protected environment
---
Original Press Release:
The Crowley Company Releases Revolutionary MACH Mini Microfilm Scanner
Smallest Footprint in Class Features Production-Level Throughput, Portability
FREDERICK, MD. (PRWEB) MARCH 27, 2019 - On Tuesday, March 26th, The Crowley Company (Crowley), a worldwide leader in production and cultural heritage scanning hardware and digitization services, officially released the Crowley-manufactured MACH Mini microfilm scanner. At just 16 x 17 x 7.5 inches and weighing only 30 pounds, the MACH Mini is be the smallest production-level microfilm scanner on the market.
Able to scan up to 350 images per minute from any 100' or 215' open spool or 3M microfilm cartridge, the MACH Mini delivers in two models and pairs a high-resolution CCD line array camera with industry-leading QuantumScan and QuantumProcesssoftware.
Why Mini? 
Matthew McCabe, Crowley vice president of sales and marketing, calls the MACH Mini a game-changer. "As both a scanner manufacturer and a scanner end-user, Crowley has a huge advantage in the capture market. We not only engineer and build our scanners, we use them in our Crowley Imaging service bureau, one of the largest in the nation. We experience the same pain points that challenge our hardware clients, enabling us to enhance the software and hardware features as needed on our film and fiche scanners." The MACH Mini is the latest effort to come from that collaboration.
Patrick Crowley, president of The Crowley Company, adds, "As we take on an increasing number of off-site digitization projects in our conversion services division, we've seen the critical need to pair portability with production efficiency. The MACH Mini does exactly that. Whether we're scanning in-house in a condensed space or moving from place to place, the MACH Mini captures the best features of our stationary Mekel Technology MACH-Series scanners in a compact, simple to transport system."
The MACH Mini and an accompanying laptop can be packed in a portable hard case, easily fitting into a car trunk or back seat.
Crowley continues, "The MACH Mini captures up to a fast 350 images per minute at high image quality. It's not a replacement for those needing the speed, 1,000' roll capabilities and other key features of the MACH 5 or 10, but the MACH Mini provides a much-needed option for high throughput at one-third of the physical space and less than half the cost."
McCabe can't help but be excited. "This will truly be a game-changer for the small-to-mid-size bureaus that have limited physical and financial resources." And they're not the only ones. "The major institutions that travel from location to location, branch to branch or department to department – archive, library, university and financial systems or, really, any organization with a significant volume of historical collections and records on microfilm – all are going to appreciate the powerful solution and portability of the MACH Mini."
And if MACH Mini prospect currently uses a Mekel Technology scanner in their operation? "Even better," says McCabe. The fact that the Crowley MACH Mini uses the same Quantum software as the Mekel scanners "ensures a seamless integration with almost no learning curve."
Field-Tested 
As part of the research and development process, end-users of Mekel Technology scanners were asked to field test the MACH Mini. McCabe noted that comments such as "Crowley's MACH Mini is a nice little machine," "we liked the ability to stack and the great portability" and "because we already use the Quantum suite, it was easy to integrate the images into our system" let the company know it was on the right track.
As intended, McCabe notes, "testing also pointed out areas for improvement." Specifically, the MACH Mini has since been adapted to work via laptop as well as a PC for added transport ease. "It's became clear that many organizations beyond our own are moving toward remote digitization services. They need a production scan system that can go where they go."
The MACH Mini Offers Major Advantages
Competitive advantages include: 
Ability to Stack. The flat top and stable footing design allow for the stacking of multiple units, keeping the base footprint of 16 x 17 inches no matter the number of scanners high. This feature is ideal for those scanning high volumes of microfilm in a limited space.
Laptop compatibility. The MACH Mini has the option to run from a dedicated laptop for further portability.
Easy threading. The MACH Mini transport system takes seconds to load and has a well-balanced tension system which protects microfilm and the dislodging of emulsion from brittle film sometimes caused by pinch rollers.
Enhanced storage. The MACH Mini is delivered with 10 TB of data storage, the most of any production scanner in its class.
External PC. In the event of a client PC or laptop failure, there is no need to replace the entire scanner. Production downtime is only limited to the minutes it takes to replace a PC and upload software.
IMAGEhost. Each MACH Mini is delivered with a free 30-day trial of Crowley's IMAGEhost microfilm and microfiche hosting platform. This allows owners to quickly scan, process, host and share images in a password-protected environment, saving significant IT costs and opening a research and image-sharing portal that has not been affordable for many organizations to date.
Demo Opportunities 
The MACH Mini will be available for demonstrations in Booth 100 at the Computers in Libraries conference running March 26th through March 28th in Arlington, VA. For a free exhibit-only pass, contact The Crowley Company at webrequest(at)thecrowleycompany(dot)com.
Individual live or webinar demonstrations can be scheduled by calling (240) 215-0224 or visiting http://www.thecrowleycompany.com
View the video to see the MACH Mini at work; link to the brochure
About The Crowley Company 
The Crowley Company is a world-leader in digitization/preservation technologies and provides an extensive number of digital document and microfilm conversion services to the public, private and government sectors. The company manufactures, distributes and services high-speed microfilm, microfiche, aperture card, book and document scanners, microfilm duplicators, film processors, micrographics equipment and 71MP cameras. Manufactured brands include Crowley, Mekel Technology and Wicks and Wilson.
Contact Information
Cheri Baker/Director, Communitications
The Crowley Company
http://www.thecrowleycompany.com
240-215-0224 x228
Matt McCabe/Vice President, Sales & Marketing
The Crowley Company
http://www.thecrowleycompany.com
240-215-0224 x210