New M2 Label Applicator Features Onboard Controls Module
Press Release Summary: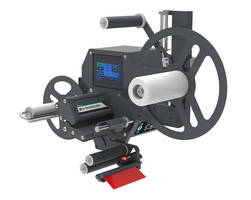 Equipped with optional rewind assembly and can reach speeds of more than 2000 in./min (50 m/min)
Accommodates 12-in. (30-cm) OD label supply on 3-in. (76-mm.) core
Applies labels as small as 0.5 x 0.5 in. (13 x 13 mm.) and as large as 5 x 18 in. (127 x 457 mm.)
---
Original Press Release:
ID Technology Introduces M2 Label Applicator
Compact, easy-to-use, high-speed pressure sensitive labeler maximizes reliability and versatility
FORT WORTH, Texas, November 19, 2020 – ID Technology, a ProMach product brand, introduces their new M2 label applicator. This state-of-the-art label head applies pressure sensitive labels to clamshells, tubs, boxes, trays, bottles, and pallets as well as other packages. Featuring a new onboard controls module with ProMach's Titanium motion controller, as well as a new application module and more, the M2 is a compact, easy-to-use, high-speed labeler that maximizes reliability and versatility.
"In our quest to build the world's best label applicator, we worked closely with our customers, including operators and maintenance personnel, to understand exactly what they all wanted. That diligence led us to design the M2 labeler," said Matt McLean, Vice President and General Manager of EPI, a ProMach brand aligned with ID Technology. "Every assembly, component and feature was scrutinized – each aspect of the M2 is industry-leading."
The M2 applies labels as small as 0.5 x 0.5 inches (13 x 13 mm) and as large as 5 x 18 inches (127 x 457 mm), depending on the application, at speeds of up to 1500 inches/minute (38 m/min). Equipped with an optional rewind assembly, the M2 can reach speeds of more than 2000 inches/minute (50 m/min). The standard M2 accommodates a 12-inch (30-cm) OD label supply on a 3-inch (76-mm) core and can be fitted with an option to handle a 16-inch (40-cm) OD or larger label supply. It can be changed over to handle a different package and label in less than one minute, with no tools required and no changeparts.
The compact M2 labeler is only 28 inches wide, 13.5 inches deep and 17.75 inches high (71 x 34 x 45 cm). Available in left- or right-hand configurations to seamlessly integrate into existing packaging lines, users can simply roll it up to a conveyor to label a wide range of primary and secondary package types or hard-mount this little labeler to a conveyor or parent packaging machine.
Comprised of six easy-to-change modules, the M2 maximizes serviceability. Quality design, components and construction all contribute to enhanced reliability and longer equipment life. The new onboard control module, made of aluminum for superior heat removal, is fully sealed to IP65 standards to protect electronics from dust and moisture. Inside the control module is ProMach's advanced Titanium motion controller, which powers the M2's servomotor. The Titanium drive, together with a smart encoder and intelligent programming, keep the labeler's speed perfectly matched to improve repeatability and label placement accuracy.
To ease use and help operate at peak performance, the M2 allows up to 100 recipes, which contain every setting, to be saved to memory for quick recall during product changeovers. All recipes and settings are automatically backed up via the USB port and can be shared across production lines. Threading is simplified with a drop-in label loading function and an on-screen threading diagram displayed on the full-color HMI. In addition to onboard help screens, the M2 will display a warning and/or alarm if a problem is detected, such as forgetting to close the nip assembly. Accompanying the warning are easy-to-follow instructions on how to correct the problem.
In addition to the new onboard control module, the M2 features a new application module that uses low inertia rollers and specially-designed low-friction ball bearings. A new label sensor mount allows the user to easily switch between a standard label sensor and an optional ultrasonic clear label sensor by changing only the sensor. A high-power, direct-drive motor means no gearboxes to wear out or belt reductions to maintain. The M2 nip assembly is more robust and guarded to protect workers, with a new ribbed roller to provide a secure, three dimensional grip on the liner.
About ID Technology
Customers around North America depend on ID Technology to design, build and install the most effective product, case and pallet identification systems for their product lines. While being a leading manufacturer and integrator of labeling, coding and marking equipment, ID Technology also operates six regional label converting facilities across North America that can produce quality labels and tags quickly and efficiently in run volumes of any size. As part of the ProMach Labeling & Coding business line, ID Technology helps packaging customers protect and grow the reputation and trust of their consumers. ProMach is performance, and the proof is in every package. Learn more about ID Technology at www.IDTechnology.com.
About ProMach
ProMach is a family of best-in-class packaging solution brands serving manufacturers of all sizes and geographies in the food, beverage, pharmaceutical, personal care and household and industrial goods industries. ProMach brands operate across the entire packaging spectrum: filling and capping, flexibles, pharma, product handling, labeling and coding and end of line. ProMach also provides Performance Services, including integrated solutions, design/build, engineering services, and productivity software to optimize packaging line design and deliver maximum uptime.
ProMach designs, manufactures, integrates and supports the most sophisticated and advanced packaging solutions in the global marketplace. Its diverse customer base, from Fortune 500 companies to smaller, privately held businesses worldwide, depends on reliable, flexible, technologically advanced equipment and integrated solutions. ProMach is headquartered near Cincinnati, Ohio, with manufacturing facilities and offices throughout the United States, Canada, Mexico, Brazil, Europe, United Arab Emirates and China. For more information about ProMach, visit www.ProMachBuilt.com.
Media Contact
John Eklund | Vice President, Marketing
ProMach
[email protected]
+1 704 944 5340