New M16 Connectors Optimized with 360 degree EMI shielding
Press Release Summary: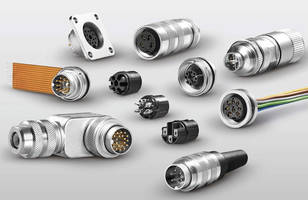 Accommodate up to 24 contacts and transmit data at speeds up to 10 Gbit/s
Connectors are compact at 18.5 mm in diameter and 60 mm in length
Ideal for pneumatic controls, motor-speed regulators and torque sensors
---
Original Press Release:
Binder USA Introduces M16 Connectors with High Pin Counts for 5G Networks
Camarilo, CA – March 1, 2021 – The latest M16 connectors from Binder USA, LP, are designed to meet the data speeds, high frequencies, and tight space requirements for 5G wireless networks. Binder's M16 connectors can now accommodate up to 24 contacts and transmit data at speeds up to 10Gbit/s. The connectors are compact at 18.5 mm in diameter and 60 mm in length, with special short and right-angled versions available with a height of just 37 mm.
The connectors are compliant with AISG C485 standards, providing international protection for selected outdoor installations. (AISG – the Antenna Interface Standards Group – defines standards for the control and monitoring of antenna line devices in the wireless industry.) Optimized with 360° EMI shielding, the connectors are rated up to IP68 when connected, providing reliable performance in harsh outdoor environments.
binder USA's compact M16 connectors are widely used in instrumentation, measurement, and sensors, where space is limited and/or higher pin counts are required than those offered M8 and M12 connectors. Applications include: pneumatic controls, gas and pressure measurement, torque sensors, and motor-speed regulators, among many others.
binder M16 connector highlights:
binder series: 423 and 723
Data transmission speed: Up to 10 Gbit/s
Protection: up to IP68
Solder/crimp/screw termination
Cable range: 4 mm to 10 mm in diameter
Rated voltage: 250V (impulse voltage to 1500V)
Rated current: 7A (at 40°C)
DIN EN 61076-2-106
Media Contacts:
Paul Pulkowski | binder USA | paul.pulkowski@binder-usa.com | Tel: 805.437.9925
Julie Eleftheriou | Longren & Parks | julie@longrenparks.com | Mobile: 952.913.3065
About Binder USA, LP
Binder USA, LP, is a subsidiary of binder Group, a leading global manufacturer of circular connectors, custom cordsets, and LED lights. binder USA products are used around the world in industrial environments for factory automation, process control, and medical technology applications. Defined by technical innovation and traditional values, the binder name is synonymous with the highest standards of quality and reliability. The company's quality management system is ISO 9001 and 14001 certificated, but it is a solution-focused approach to customer applications and commitment to superior service that truly differentiates binder from the competition.
For more information, visit www.binder-connector.us, or email sales@binder-connector.us.