New M12-A Connectors are IP68 Rated
Press Release Summary: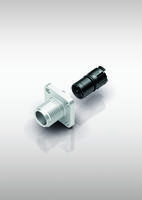 Available with 4,5, or 8 pins and has operational temperature range from -40°C to +85 °C
Come with Latching and Multi-Positioning Features
Ideal for sensor and actuator applications
---
Original Press Release:
binder USA Introduces Two New Rectangular Flange M12-A Connectors with Latching and Multi-Positioning Features
Camarillo, CA – February 1, 2021 – Binder USA, LP, has expanded its M12-A connector portfolio with two new rectangular flange connectors. Designed for today's advanced automation technology, the connectors provide new options for sensor and actuator applications.
The M12-A connectors include a stranded-wire version with 20mm or 26 mm rectangular housing, and a solder version with 20 mm housing. (The stranded-wire 26 mm version uses the same drilling template as the M16, allowing users to switch to M12 without changing the existing housing.) For simple and reliable installation, binder used a two-part approach consisting of the housing and the contact holder, allowing the coding nose of the contact holder to be positioned in increments of 45°.
Highlights include:
binder series: 763
Available with 4,5, or 8 pins
Protection rating: IP68
Operational temperature range: -40°C to +85 °C
Rated voltage: 250 V
Rated current: 4 A (3A UL)
Contact plating: Au (gold)
Media Contacts:
Paul Pulkowski | binder USA | paul.pulkowski@binder-usa.com | Tel: 805.437.9925
Julie Eleftheriou | Longren & Parks | julie@longrenparks.com | Mobile: 952.913.3065
About Binder USA, LP
Binder USA, LP, is a subsidiary of binder Group, a leading global manufacturer of circular connectors, custom cordsets, and LED lights. binder USA products are used around the world in industrial environments for factory automation, process control, and medical technology applications. Defined by technical innovation and traditional values, the binder name is synonymous with the highest standards of quality and reliability. The company's quality management system is ISO 9001 and 14001 certificated, but it is a solution-focused approach to customer applications and commitment to superior service that truly differentiates binder from the competition.
For more information, visit www.binder-connector.us, or email sales@binder-connector.us.