New M-Flex TPE Tubing from Meissner is Non-Cytotoxic
Press Release Summary: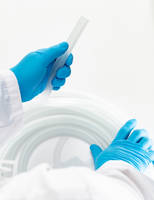 Helps reduce risk in manufacturing operations
Ideal for use in critical single-use assemblies
Meets the requirements as specified in the USP Class VI plastics tests 
---
Original Press Release:
Meissner Introduces New TPE Tubing, M-Flex™, for Use in Critical Single-Use Assemblies
Meissner understands the urgency created by alternative thermoplastic elastomer (TPE) tubing shortages, and has introduced M-Flex™, a substantially equivalent TPE tubing, to help reduce risk in manufacturing operations. M-Flex™ TPE tubing is immediately available for specification into single-use assemblies.
By benchmarking TPE tubing commonly used in biopharma, Meissner's team of SME's was able to produce a material and component design space for M-Flex™ that allows for direct substitution in single-use assemblies. A comprehensive Qualification Guide provides test data that substantiates M-Flex™ tubing's welding, sealing and pumping equivalency, and helps to expedite our client's internal qualification process.
M-Flex™ has been tested extensively for biocompatibility in accordance with USP and ISO standards. It meets the requirements as specified in the current USP Class VI plastics tests and is non-cytotoxic.
Meissner manufactures advanced microfiltration and One-Touch® single-use systems used in the sterilization of drugs, reagents, and other critical pharmaceutical and biomanufacturing applications. For assistance exploring Meissner's immediately available, substantially equivalent TPE tubing option, with a secure supply chain, please visit www.meissner.com/m-flex or call +1.805.388.9911. 
Contact: Karisa Koenig, Director of Marketing, karisa.koenig@meissner.com
More from Electrical Equipment & Systems