New LV Series Laser Engraving Machines Cut Surfaces Smoothly and Cleanly Without Burrs
Press Release Summary: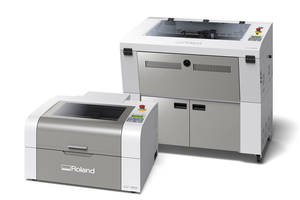 LV-180 and LV-290 available with its 20.4" x 14.7" and 31" x 20.9" table respectively
Ideal for LEF and LEF2 benchtop UV flatbed printers for combined laser-cut and direct-print applications
Uses non-contact CO2 laser to engrave complex shapes and text with crisp edges out of plastics, wood, leather, paper and cork
---
Original Press Release:
Roland DGA Announces Launch of New LV Series Laser Engraving Machines
Irvine, Calif., September 3, 2019 – Roland DGA Corporation, a leading provider of wide-format printers, engravers, 3D milling machines, and other innovative digital devices, has announced the launch of its new LV series laser engraving machines. Advanced and easy to operate, the multi-purpose LV series employs state-of-the-art CO2 laser technology to cut-out, engrave or mark on hundreds of different materials with incredible ease and accuracy. Two different models are available – the 30-Watt LV-180 with its 20.4" x 14.7" table and the 40-Watt LV-290 with its 31" x 20.9" table – allowing users to choose the machine that best suits the size and thickness of the materials they will be working with.
The new LV laser engravers are ideal to use alongside Roland's VersaUV® LEF and LEF2 benchtop UV flatbed printers for combined laser-cut and direct-print applications. Roland DGA has made pairing these devices even more attractive by offering customers the opportunity to save over $10,000 when they purchase an LV-180/LEF2-200 or LV-290/LEF2-300 combo – discounted packages that also include air filtration units for each machine and other essentials.
Both LV devices use a non-contact CO2 laser to quickly and easily engrave complex shapes and text with crisp edges out of plastics, wood, leather, paper, cork, and more. Unlike conventional digital engravers, the LV cuts surfaces smoothly and cleanly without burrs, thus eliminating the need for any final touch-up work. With the LV, there are no engraving cutters to break or wear out – the laser always delivers a beautiful finish with no degradation in quality.
"The functionality and versatility of our new LV laser engravers make them perfect for anyone seeking to launch a new personalization business or grow their existing business by adding profitable new applications," said Roland DGA Application Specialist Kevin Rosen. "The impressive capabilities of these machines are matched by their ease of use, enabling users to quickly start high-precision engraving."
The new LV-180 and LV-290 are simple to install right out of the box and incorporate a host of features that maximize accuracy, safety and convenience. A closed-loop DC Servo Motor combined with a reliable motion system ensure smooth, reliable operation and highly accurate output. An Auto-Focus Pin, which allows height to be set automatically with the push of a button, along with an included laser pointer, make media setup easy. The LV's Windows driver, compatible with CorelDRAW, Adobe Illustrator and AutoCAD, assists in engraving and cutting operations, while an intuitive control panel lets you save and output the same processing data multiple times without returning to the Windows driver. In addition, the LV laser engravers are Class 1-compliant under the IEC60825-1 international standard for laser devices, providing assurance that they meet the most stringent safety requirements. Maintenance is also a breeze, thanks to a convenient lid design that allows easy access from both ends of the machine.
The LV-180 and LV-290 come with Roland's legendary service and support as well as a Two-Year Trouble-Free Warranty.*
To learn more about Roland's new LV laser engravers, visit https://www.rolanddga.com/LV. For more information on the complete Roland product line, visit https://www.rolanddga.com.
About Roland DGA Corporation
Roland DGA Corporation serves North and South America as the marketing, sales, distribution and service arm for Roland DG Corporation. Founded in 1981 and listed on the Tokyo Stock Exchange, Roland DG of Hamamatsu, Japan is a worldwide leader in wide-format inkjet printers for the sign, apparel, textile, personalization and vehicle graphics markets; engravers for awards, giftware and ADA signage; photo impact printers for direct part marking; and 3D printers and CNC milling machines for the dental CAD/CAM, rapid prototyping, part manufacturing and medical industries. For more information, visit https://www.rolanddga.com.
About Roland DG Corporation
Roland DG Corporation is the world's leading provider of digital printing solutions. The company's inkjet printers, printer/cutters and cutting machines are widely used to create a broad range of promotional items including banners, signs, vehicle graphics, stickers and labels, and to provide customization services for apparel and personal items like smartphone cases. Recently, Roland DG has embarked on a promising new retail frontier by capitalizing on individuals' increasing desire to create their own, uniquely designed and decorated items. The company's COTO business division has developed proprietary design and print management software which enables customers to design their own gifts, apparel and treasured mementos, and to enjoy an unforgettable creative experience. For more information, visit https://www.rolanddg.com/en.
Contact:
Marc Malkin
(949) 727-2100 ext. 1372