New luminaires from Visa Come in Therapeutic Design
Press Release Summary: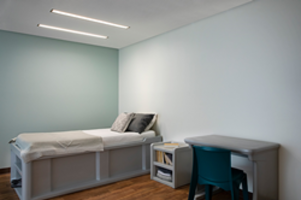 Available in Lenga and Visage models and are ideal for behavioral health facilities
Lenga features 3 in. wide, and produces asymmetric exam light from the angled outer lenses
Visage ceiling luminaire offers minimal frame and multiple length options
---
Original Press Release:
Milwaukee Lighting Manufacturer Launches More Designs for Behavioral Health
Visa Lighting, an architectural lighting manufacturer in Milwaukee, has added two new product lines for behavioral health facilities. These luminaires round out their growing collection of fixtures engineered for patient safety and therapeutic design.
MILWAUKEE (PRWEB) NOVEMBER 01, 2019 - Visa Lighting has long been recognized for creating luminaires for healthcare patient rooms that are comforting and homelike, yet still use exam lighting multifunctionality and cleanable surfaces. A few years ago, they began designing for behavioral health spaces as well. This week's launches bring their total up to six families.
Behavioral health facilities require fixtures and furnishings to be impact, tamper, and ligature-resistant. It is equally important, however, that design elements contribute to a therapeutic environment. Because of safety requirements and the complexity of light fixture components, specifiers have had few design options for these spaces. The luminaires chosen were often meant for correctional facilities and other high abuse areas.
However, design priorities have shifted alongside the evolution of behavioral health treatment. In an effort to treat the whole person (not just control symptoms), behavioral health inpatient care has become focused on patient-centered recovery. Environmental design plays a huge role in that, as patients live and recover in these spaces for an average of 7.2 days. Many experts suggest that a warm, homelike atmosphere with non-institutional fixtures can prevent psychological stress and offer positive distraction.
Lenga was originally launched as a dual luminaire (two units working in tandem) for patient overbed. It's extremely narrow, only 3" wide, and produces asymmetric exam light from the angled outer lenses. This eliminates shadows over the bed and allows caregivers to examine patients without throwing glare in their eyes. Lenga's new behavioral health models include the same design and functionality, but with a secondary polycarbonate lens and tamper-resistant fasteners. Recent Joint Commission guidance advises that all patient spaces should be safe and ligature-resistant, not just behavioral health spaces, so Lenga's release is particularly well-timed.
Visage is a recessed linear ceiling luminaire with a minimal frame and multiple length options. Specifiers first requested a behavioral health version of this family because it is such a fundamental form and can be used throughout the behavioral health facility to provide ambient or accent lighting. Where designers would use high abuse troffers or downlights to fill in the light or create rhythm, they can now use Visage.
About: Visa Lighting's mission is to forge bold, exceptional experiences through progression and creative collaboration. That's why their performance architectural lighting products are designed, manufactured and assembled by skilled craftspeople in Milwaukee, WI. Decades of manufacturing expertise qualify Visa Lighting to promote responsible innovations in lighting technology, creating opportunities to protect the natural environment while sustaining wellbeing in the built environment. Visa Lighting is an Oldenburg Group company.
Contact Information
Lindsay Emanuel
Visa Lighting
http://https://visalighting.com
4144103638
More from Cleaning Products & Equipment