New LON HD-PLC Bridge From MegaChips and Gesytec
Press Release Summary: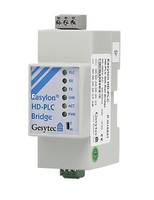 The new LON HD-PLC Bridge features new channel standard for high-speed wireline networks and can seamlessly couple Ethernet and RS-485 devices.   The product can act both as an HD-PLC master or terminal for HD-PLC and is based on IEEE 1901 and ITU-T G.9905 international standards. 
---
Original Press Release:
MegaChips and Gesytec Introduce World's First LON HD-PLC Bridge at AHR Expo 2019
New LON HD-PLC Bridge Delivers Megabit Speeds Over Several Kilometers of Power Lines for Next-Gen LonMark Applications
SAN JOSE, Calif., Jan. 14, 2019 /PRNewswire/ -- At AHR Expo in Atlanta, Georgia (January 14-16, 2019), MegaChips Corporation and Gesytec GmbH will showcase the world's first LON HD-PLC bridge for Smart City and Smart Building applications in LonMark International's booth (#5020). Built to seamlessly couple Ethernet and RS-485 devices, Gesytec's LON HD-PLC bridge enables system designers and integrators to upgrade to higher speeds, longer ranges, more nodes, and more advanced feature-sets over their existing wiring infrastructure with minimum cost.
In 2017, LonMark International adopted HD-PLC as the new channel standard for high-speed wireline networks. Based on the IEEE 1901 and ITU-T G.9905 international standards, HD-PLC combines IP-based broadband communication with an innovative multi-hop technology to reliably achieve megabit data rates over several kilometers of cabling (AC/DC powerlines, twisted-pair, coax, etc.). It supports up to 1024 nodes and is packed with innovations such as free topology, mesh networking with dynamic traffic routing, and crypto-strong AES-128 encryption.
Gesytec's LON HD-PLC bridge is offered in a DIN rail module optimized for building and industrial automation applications. Capable of acting as an HD-PLC master or terminal for HD-PLC, as well as master for the upcoming CNP-HD-PLC standard EN 14908-8 or ANSI / CTA 709.8., the LON HD-PLC bridge can be paired with a Gesytec Easylon Router Plus to connect an HD-PLC network with a standard LON network using TP/FT-10 or LON/IP.
At the heart of Gesytec's LON HD-PLC bridge is a MegaChips BlueChip HD-PLC System-on-Chip (MLKHN1501) with Multi-hop technology. The SoC combines MegaChips' state-of-the-art Analog-Front-End, PHY/MAC, and memory into a single package to deliver fast, bidirectional, IP-based communication over any wire. Fully compliant with IEEE 1901 and ITU-T G.9905, the HD-PLC SoC has been successfully deployed in various applications around the world such as in energy management, street lighting, and building automation and many more.
"With Gesytec's LON HD-PLC bridge, powered by MegaChips proven technology, system integrators finally have a solution to the range limitations of Ethernet, and the data rate limitations of RS-485. It eliminates the need for costly gateways, additional Ethernet wiring, and complexities associated with RS485 grounding," stated Michael Navid, VP Marketing and Business Development at MegaChips. "Perfectly suited for retrofit projects, HD-PLC enables a new generation of high-speed building and industrial automation systems at the lowest cost."
Learn More
Watch the HD-PLC webinar, download the whitepaper, and learn about the latest products at: http://www.megachips.com/HD-PLC.  
About MegaChips Technology America Corporation ("MegaChips America") 
MegaChips America is a wholly owned subsidiary of MegaChips Corporation headquartered in Osaka, Japan. MegaChips provides Integrated Circuits (ICs) and System on Chips (SoCs) that are essential for the advancement of Application Specific Standard Products (ASSPs). Leveraging decades of technology excellence, partnerships and acquisitions, MegaChips is shaping the next wave of the digital revolution with innovations in the Internet of Things, Displays, Mobility, Sensor Fusion and Wearable devices.
Press Contact (MegaChips Technology America Corporation): 
Joel Silverman
MegaChips Technology America Corporation
joel@megachips.com
More from Test & Measurement