New LogiDrive Systems Offer Service and Maintenance Friendly Plug & Play Technology
Press Release Summary: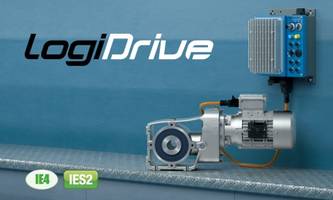 LogiDrive units consist of an energy-saving IE4 synchronous motor with a rated power of up to 5.5 kW, a two-stage helical bevel gear unit and a NORDAC LINK frequency inverter
Comes with a modular design so that all components can be individually serviced
NORD Gear Corp. will also introduce extruder flanges for maximum axial forces and SK TU4-PNS PROFIsafe module with extra safety
---
Original Press Release:
NORD DRIVESYSTEMS at The Tire Technology 2019
At Tire Technology 2019 in Hannover from 5 to 7 March 2019, NORD DRIVESYSTEMS will present safe and efficient drive solutions for the tyre industry. Among other products, the North German drive specialists will be showing its LogiDrive systems, special extruder flanges and the NORD SK TU4-PNS PROFIsafe interface module.
NORD DRIVESYSTEMS covers a wide variety of applications in the tyre industry with industry-specific, innovative drive solutions. Visitors to the Tire Technology 2019 can see this for themselves at the NORD stand 8094 in Hall 21. At Europe's most important exhibition for tyre production technology, the company will be showing its extensive portfolio of drive technology and specially tailored system solutions for the industry.
LogiDrive: Cost reduction through standardisation
As well as intelligent networking, economical drive technology solutions are required, which can be achieved for example with a tried and tested method for reducing the number of variants. With its LogiDrive systems, NORD DRIVESYSTEMS offers service and maintenance friendly plug & play technology, which features ultimate efficiency and reliability. The decentralised drive units consist of an energy-saving IE4 synchronous motor with a rated power of up to 5.5 kW, a two-stage helical bevel gear unit and a NORDAC LINK frequency inverter mounted close to the motor. The entire system has a modular design, so that all components of the drive technology can be individually serviced.
Extruder flanges for maximum axial forces
Several extruder flanges are available for MAXXDRIVETM industrial gear units in sizes 5 to 11 with rated torques from 15 kNm up to 80 kNm. This enables adaptation to almost all common connection dimensions. Generously dimensioned thrust bearings, ensure safe absorption of process forces and a long operating life. The "extruder flange" option can be customised to the customer's shaft and optimally matched to the customer's demands with several bearing variants. This gives plant constructors, manufacturers and processors of plastic and rubber the opportunity to develop safe and highly reliable drive units that are very versatile at the same time.
The drive unit with extra safety
Functional Safety is becoming increasingly important as a fundamental component of modern machine and plant design and it is an indispensable aspect of the drive systems from NORD. At present, NORD DRIVESYSTEMS supplies frequency inverters with integrated STO and SS1. The drive specialist provides fail-safe communication and safe movement functions according to IEC 61800-5 with the SK TU4-PNS PROFIsafe module. Functions such as SLS (Safety Limited Speed), SSR (Safe Speed Range), SDI (Safe Direction), SOS (Safe Operation Stop) and SSM (Safe Speed Monitor) can be integrated to expand the safe stop functions of the drive units. With this, the PROFIsafe interface module provides comprehensive safety for the reliable operation of plant and machinery.
You can find NORD DRIVESYSTEMS at the Tire Technology 2019 in Hall 21 stand 8094.
Company background
A developer and manufacturer of drive technology; NORD DRIVESYSTEMS is one of the world's leading suppliers of full-scale, comprehensive drive solutions. Founded in 1965, the company has grown to include over 36 assembly centers worldwide, sales and support is available in 60+ countries and includes over 3.600 employees. This ensures short delivery times and services close to you. NORD's wide variety of gear type's cover torques from 90 lb-in. to 2,215,000 lb-in. and more. The company also manufactures motors delivering outputs from .16Hp to 1341hp, and power electronics ranging from frequency inverters to servo controllers. www.nord.com
LinkedIn : https://www.linkedin.com/company/getriebebau-nord-gmbh-&-co-kg/
Twitter: https://twitter.com/NORD_Drive
YouTube: https://www.youtube.com/user/NORDDRIVESYSTEMS
NORD Gear Corporation
800 NORD Drive
PO Box 367
53597 WI Waunakee
Thomas McLaughlin, Phone: 608-849-7300 x 2957, Fax: 1-888-813-2484, Thomas.McLaughlin@nord.com
Getriebebau NORD GmbH & Co. KG
Getriebebau-Nord-Straße 1
22941 Bargteheide/Hamburg
Germany
Jörg NIERMANN, Phone: +49 45 32 / 2 89 -0, Fax: +49 45 32 / 2 89 -22 53, Joerg.Niermann@nord.com
More from Agricultural & Farming Products