New Little Giant Carts Feature Heavy Gauge Steel Construction
Press Release Summary: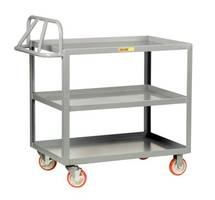 Little Giant Carts are available with 2-5 shelves. The carts are designed with trays, drawers and writing shelves. Units feature non-slip, vinyl shelf surfaces and flush mounted ergonomic handle.
---
Original Press Release:
Little Giant Material Handling Trucks and Carts are Now Available at Interstate Products
Sarasota, FL — Interstate Products Inc. (IPI) now provides Little Giant Service Carts, Shelf Trucks and Instrument Carts. IPI has been providing quality industrial safety, environmental and maintenance products at value pricing for companies and individuals since 1996.
According to Company President, Richard Eisenberg, "Adding Little Giant service carts and trucks is a benefit to our clients, they can now purchase their material handling needs in addition to the other wide range of products we provide for them."
How do you pick the right Little Giant Cart or Little Giant Truck?
Consider these basic factors:
What are the weights of the typical materials you'll be handling with your Little Giant truck or cart? How big are the items? Are they delicate instruments? At what height do they need to be handled? How often will you need to make tight turns with the loaded Little Giant cart or Little Giant truck? 
What kinds of wheels are best for your applications – harder, softer, swivel casters or fixed, or both? Little Giant can match the wheels to your typical floor or surface, for indoor or outdoor use – or both.
Shelves aren't "just shelves" anymore. Little Giant carts and trucks are available with various shelf configurations depending on your need: how many shelves do you need? Do you need a shelf, or shelves, with a lip – to help keep materials on the cart? How high of a lip? Do you need flush shelves with no lip and, perhaps, a non-slip shelf surface? Would your Little Giant truck or cart benefit from a drawer underneath the top shelf?
Even the handle on your Little Giant truck can make a difference to your employees – flush mounted, ergonomic, with a hand guard to protect the hands?
The new Little Giant product offerings include:
2-5 Shelf, All-Welded Service Carts.
Heavy Duty Shelf Trucks with Trays, Drawers and Writing Shelves.
Instrument Carts with Non-Slip, Vinyl Shelf Surfaces.
Little Giant products feature all-welded heavy gauge steel construction with a tough powder coated finish. These products have earned a reputation for strength, durability and longevity - even in the most demanding applications.
Interstate Products provides real solutions for your material handling needs. Visit our webpage at: https://store.interstateproducts.com/material-handling/ to see these products.
About Us:
Since 1996, Interstate Products, Inc. has become a global multi-brand supplier of quality environmental, maintenance and safety product solutions to industrial, commercial, institutional, military, and various government organizations. Since its inception, IPI has experienced tremendous growth fueled by our commitment to continuously add innovative new products to meet the demands of a rapidly expanding and diverse customer base. In addition to being a leading provider of spill containment berms and flexible storage tanks – available in both standard and custom sizes, we also supply safety cabinets, absorbents, environmentally friendly chemicals, material handling and other safety products. Information about these and other quality products can be obtained by visiting our company website at https://store.interstateproducts.com/
For more information, please contact Interstate Products at 6561 Palmer Park Circle Suite A
Sarasota, FL 34238 or call toll free1-800-474-7294 for domestic inquiries and 941-377-8610 if outside the United States.
The company's email address is services@interstateproducts.com.
Contact: 
Melissa Jenkins
Product Announcements
941-377-8610 or
rich.e@interstateproducts.com
More from Architectural & Civil Engineering Products