New Linear Stepper Motors Provides Low Profile and Small Cross Section
Press Release Summary: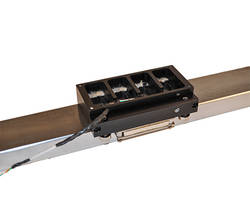 Performs at speeds of up to 80 in/sec and strokes of up to 68 in.
Capable of very precise position, velocity and acceleration control when coupled with a micro-stepping drive and indexer
Ideal for high-speed open loop positioning applications
---
Original Press Release:
Magnetically Preloaded Single Axis Linear Stepper Motors
H2W Technologies' single axis linear stepper motors are ideal for high-speed open loop positioning applications. They can perform at speeds of up to 80 in/sec [2 m/sec] and strokes of up to 68 in [1.7 m]. Linear stepper motors are capable of very precise position, velocity, and acceleration control when coupled with a micro-stepping drive and indexer. 
The moving assembly called the "forcer" is supported by magnetically preloaded air bearings that are embedded in the active surface of the forcer, and on a single side of the platen to minimize the physical contact of bearings on the platen. The bearings are designed to support the customer's payload and to maintain the required 0.0005 in to 0.0010 in [12 to 25 micron] air gap between the platen and the forcer. 
The step and direction signal comes from a micro-stepping drive (2 or 4 phase). An indexer is required to send step and direction signals to the driver. For 2 phase motors, the full step is 0.010 in [250 microns] and for 4 phase motors the full step is 0.005 in [125 microns]. With micro-stepping, resolutions in the order of 0.5 to 1 micron are achievable.
The single axis linear stepper motor is a complete air bearing positioning system with the motor, the bearings, and the positioning system all built into one compact package. Integrating a linear encoder with the stepper motor allows for a hybrid, closed loop positioning system. 
Advantages:
Low profile and small cross section
High Speed
No servo tuning required
Multiple forcers on a single platen
Applications:
Pick and Place
Wire bonders
Parts transfer
Fiber optic
H2W Technologies is dedicated to the design and manufacture of linear and rotary motion products that are used in the motion control industry. The complete line of linear electric motors includes: single and dual axis linear steppers, DC brush and brushless linear motors, voice coil actuators, and AC induction motors. Also offered is a complete line of ball screw, lead screw and belt driven positioning stages. Other motion control products include: limited angle torque motors for compact, limited angular excursion rotary servo applications, 3 phase brushless rotary servo motors with matching digital servo amplifiers and permanent magnet linear brakes for fail-safe, zero power braking for baggage handling and people moving applications as well as amusement park rides.
With over 75 years combined experience in the linear and rotary motion field, the H2W Technologies team of engineers offers the optimal solution to the most demanding motion control requirements. For additional information please contact Mark Wilson at H2W Technologies, 26470 Ruether Avenue #102, Santa Clarita, CA 91350; Tel: 888-702-0540, Fax: 661-251-2067, E-Mail: info@h2wtech.com or visit the website at www.h2wtech.com.
Contact:
Don Wismann
505-234-1182
dwtechcom@gmail.com
681 HoodP SE
Rio Rancho
NM 87124