New Line of Frameless Graphic Displays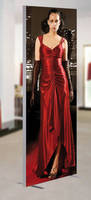 Clearr Corporation is pleased to present our new line of frameless graphic displays. Our wide selection takes your images "to the edge", eliminating the conventional "framed in" look. Images are printed using environmentally-friendly fabrics and inks, and are retained by a simple, invisible, and easy-to-use perimeter tensioning feature. Also eliminated in the process are acrylic faces, along with their weight, reflections, and cost. The result--your graphics have greatly-enhanced visual impact, using a simple, economical, and eco-friendly system.

StretchFrame(TM) and StretchLite(TM) are available in popular sizes, custom sizes, and "mega" sizes. They can be made in virtually any size, but the practical size limit it 10' (3m) by any dimension. Sizes larger than 36" x 48" (915 x 1220mm) are shipped in kit form to reduce shipping costs, and are easily assembled on location.