New Line - "Big Friggen Lifts" (BFL) Series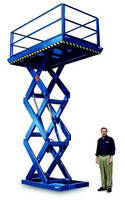 Advance Lifts, Inc. of St Charles, Illinois is proud to announce their new line of lifts the "Big Friggin Lift" or BFL series. This new line of lifts is designed to take over where their highly successful MSL line ends. The new BFL lifts are designed to move large items or multiple pallets from floor to floor. These new lifts will travel from 8 feet to 18 feet and have platforms ranging from 6 'x 8' going up to 8' x 12'. These lifts will be ideal for moving large loads 1-2 floors or up to high stages and mezzanines.

For over 35 years, Advance Lifts, Inc. has been manufacturing loading dock equipment, work positioners, lift tables, recycling equipment and packaging equipment.

To find out more information visit us on the Internet at www.advancelifts.com.

For technical information contact Michael Renken michaelr@advancelifts.com

or call 800-843-3625.


More from Material Handling & Storage