New Lighting Products Accepted by NYS-OMH Standards for Behavioral Health Facilities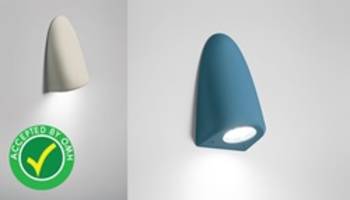 MILWAUKEE (PRWEB) NOVEMBER 01, 2018 - Two of Visa Lighting's luminaires have been accepted by the New York State Office of Mental Health (NYS-OMH) and published in the latest edition of "Patient Safety Standards, Materials and Systems Guidelines."
"The NYS-OMH sets high standards for the testing and selection of products and design strategies," says Laurie Emery, Healthcare Market Development Manager at Visa Lighting. "These products are engineered to accommodate spaces for patients dealing with serious mental health illnesses."
Behavioral health environments treat patients that may present a higher level of safety and security risks, including ligature, suicide, and self-harm. Luminaires in patient areas must be tamper-resistant, ligature-resistant, and impact-resistant so that they do not present a ligature or weapon opportunity when damaged or combined with other objects.
In addition, as treatment philosophy has shifted from symptom control to evidence-based care, current standards for behavioral health facility design (including the NYS-OMH guidelines) consider aesthetics alongside safety concerns. With this mindset, a patient's recovery is more about personal wellbeing than correction and isolation. Product design plays a big role in that.
NYS-OMH, in association with the architecture firm architecture+, regularly publishes these guidelines to recommend appropriate products for behavioral health facilities owned and operated by the state. "Although the focus was for New Yorkers, their product safety standards are referred to by designers for consideration on behavioral health projects throughout the US," says Emery.
All products listed in these guidelines have been tested for patient safety in conformance with OMH testing protocols. NYS-OMH does not endorse particular products or manufacturers, and emphasizes that facility has an obligation to thoroughly assess their own needs and risks. "For a manufacturer's products to be listed, they must go through NYS-OMH testing," says Emery. "If the products pass, they are noted as "Accepted" in the publication."
One product published in the August edition of the guide is Gig, the industry's first ligature-resistant, impact-resistant personal task light designed to fit a comfortable, modern bedroom. It has ¼" thick impact-resistant polycarbonate lens, cast aluminum housing, and tamper-resistant hardware. When specified with a high abuse mounting bracket, Gig has an IK10+ impact rating. These elements combined ensure that patients are not able to damage the luminaire or combine it with other items to create harmful edges, weapons, or ligature anchor points.
Gig is also available with capacitive touch dimming controls. This means a patient can control the level of light by simply touching the body of the luminaire. Touch dimming allows the patient to feel a direct, tangible sense of control over their environment, while also eliminating the need for a ligature-resistant light switch in the patient room or communal area where Gig is installed.
Also published in OMH's August guide is the Serenity 2x2 ceiling luminaire, model #CM1922. Serenity features soothing illumination from the outer frame diffuser and specialty decorative pattern options for its middle panel, as well as an amber night light option. The high abuse lens and frame is made of 1/8" thick high impact clear polycarbonate and secured with tamper resistant fasteners.
The guide's next edition will feature two additional products from Visa Lighting: the Serenity 2x4 model and Sole, the first collection of illuminated mirrors for behavioral health patient bathrooms. Sole is constructed with mirrored impact-resistant polycarbonate and is ETL wet-listed, IP65 rated, and rated IK10+. In behavioral health applications, this means Sole cannot shatter or malfunction from being hit. This mirror is unique in its hospitality-like design. Behavioral health spaces have never had a mirror that is both safe for high risk areas and visually appealing enough for low risk areas (or even for non-behavioral health spaces like public restrooms and dorms). All this earned Sole a Nightingale Silver award in 2017.
These products will be on display at Healthcare Design Magazine's upcoming conference and tradeshow in Phoenix on November 10-13th, alongside Visa Lighting's other new healthcare lighting products. HCD Expo this year is putting a big focus on behavioral health design, with several seminars and presentations surrounding key issues and new ideas for behavioral health applications.
Serenity, Gig, and Sole are just the beginning for Visa Lighting. As a leader in healthcare lighting product design and engineering, Visa Lighting will continue to develop new products that answer the design world's call for patient-centered lighting design. To make this happen, they will always seek guidance and new ideas from behavioral health specifiers, caregivers, and authoritative leaders like the NYS-OMH and architecture+. Check out our current lighting for behavioral health spaces here.
About Visa Lighting: Visa Lighting's mission is to forge bold, exceptional experiences through progression and creative collaboration. That's why their performance architectural lighting products are designed, manufactured and assembled by skilled craftspeople in Milwaukee, WI. Decades of manufacturing expertise qualify Visa Lighting to promote responsible innovations in lighting technology, creating opportunities to protect the natural environment while sustaining wellbeing in the built environment. Visa Lighting is an Oldenburg Group company.
Contact Information
Lindsay Emanuel
Visa Lighting
+1 4144103638
More from Mechanical Power Transmission