New Light Replacement Kit Features an 11.5 Inch Diameter Base
Press Release Summary: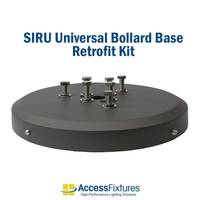 The SIRU from Access Fixtures is a light replacement kit for replacing bollard lights. The kit is made out of a die-cast aluminum housing and features an 11.5 inch diameter base for replacing bollard lights. The kit is applicable to Access Fixtures lights including the TEFA, CONA  and LUVO bollard light families. It was designed for anchors to be screwed directly through the 11.5 inch base plate into concrete for light replacement.
---
Original Press Release:
Access Fixtures Announces SIRU: A Convenient Bollard Light Replacement Kit
WORCESTER, MA, October 2018— Access Fixtures has developed an affordable and convenient kit for replacing old bollard lights with new bollard lights. As bollard lights age, they undergo wear and tear and eventually will need to be replaced. Instead of digging a new hole and pouring new concrete, customers now have a better solution. Access Fixtures' SIRU Universal Bollard Light Replacement Kit allows customers to easily replace bollard lights with a new 7" diameter bollard. Simply install the kit on existing bollard bolts, and install the new bollard light on the replacement kit cap. Some Access Fixtures LED bollard lights well-suited to this kit are the TEFA, CONA, and LUVO bollard light families.
How the Replacement Kit Works
The base in the kit is made of sturdy die-cast aluminum and features an 11.5" diameter. All bollard lights come with a base plate and Access Fixtures' product works with these base plates by mounting directly onto them. It utilizes existing bolt patterns of customers' previous bollard lights so that the new bollard light can simply be replaced using the old anchor bolts. Levels and leveling bolts inside the retrofit base allow for quick and easy leveling prior to installation.
"This bollard light retrofit kit makes it easy to replace old bollard lights with new ones without having to add new cement," says Access Fixtures CEO Steven Rothschild. "It's a more cost- and labor-efficient solution for those who want to replace aging bollard lights."
The SIRU universal bollard light replacement kit accommodates Access Fixtures 7" diameter bollard lights as well as wider diameters with minor modification. Red Head Trubolt Wedge anchors can be screwed directly through the 11.5" base plate into the concrete to accommodate larger diameter bollard lights, such as Access Fixtures' VAND and RUGA models.
About Access Fixtures
Access Fixtures is your factory-direct source for commercial, industrial, hospitality and sports high-performance lighting solutions. With custom manufacturing capabilities, Access Fixtures builds durable, long-life LED luminaires for general lighting applications and specialty markets including transportation, freight terminals, sports fields and arenas, clean rooms, power plants, warehouses, and manufacturing facilities. Luminaire types include wall packs, area lights, bollard lights, sports lights, post top and high bays. For more information, visit Access Fixtures at www.accessfixtures.com.
More from Machinery & Machining Tools