New LEDs Designed with Molded Lenses to Optimize Intensity
Press Release Summary: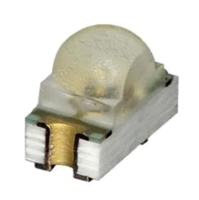 Raised light source position from 0.18mm to 0.49mm to significantly reduce light leakage
Automotive-grade product ensures high reliability in vehicle instrument clusters operating under harsh environments
Compact, high-output, surface-mount LEDs used in industrial, medical and automotive systems
---
Original Press Release:
TTI Offering Backlighting Chip LEDs from ROHM
Fort Worth, Texas – May 6, 2021 – TTI, Inc., a leading specialty distributor of electronic components, is now offering the ROHM CSL0901/CSL0902 LED series. These compact, high-output, surface-mount LEDs are designed with molded lenses to optimize intensity. This new lineup includes 18 devices, comprised of the CSL0901 series and featuring standard brightness and the high brightness CSL0902 series. LEDs are optimized for uses in industrial, medical and automotive systems.
Recently, most backlighting designs have adopted shields to prevent light leakage from the LEDs to surrounding areas. However, light leakage remains a challenge due to a small amount of space that is required between the shield and the PCB to account for expansion caused by temperature changes. Additionally, some applications using LEDs, such as medical, automotive and industrial systems where electrical components are exposed to severe conditions, require high reliability from these components, so they can better withstand the effects of aging caused by the extreme environments they are exposed to.
In response, ROHM has taken a step ahead in the industry to develop the CSL0901/CSL0902 products targeting applications that require high reliability at the component level, such as developing the first high-brightness, silver-free LEDs to prevent sulfuration, which is one of the leading causes of aging.
This newest series consists of automotive-grade products that ensure high reliability in vehicle instrument clusters which operate under harsh environments. Raising the light source position from 0.18mm in standard products to 0.49mm allowed ROHM to significantly reduce light leakage. Meanwhile, size was reduced by approximately 18x compared to conventional reflector-type LEDs.
To learn more, visit ROHM Backlighting Chip LEDs at TTI.
About TTI
TTI, Inc., a Berkshire Hathaway company, is an authorized, specialty distributor of electronic components. Founded in 1971, the emphasis on a broad and deep product portfolio, available-to-sell inventory and sophisticated supply chain programs have established TTI as a distributor of choice to manufacturers in the industrial, defense, aerospace, transportation, medical, and communications sectors worldwide. TTI and its wholly owned subsidiaries, the TTI Family of Businesses, Mouser Electronics, Sager Electronics and TTI Semiconductor Group employ over 7,300 people in more than 136 locations throughout North America, South America, Europe, Asia and Africa. Globally, the company maintains over 3 million square feet of dedicated warehouse space in 30 distribution centers, housing over 850,000 component part numbers. For more information about TTI, visit www.tti.com
About ROHM Semiconductor
ROHM offers a full line of leading-edge sensors, silicon carbide MOSFETs and Schottky barrier diodes, optoelectronics, and power management ICs. If you're designing for rugged environments requiring high-temperature and/or high-voltage along with higher power density solutions – TTI is fully franchised for ROHM, Kionix MEMS Sensors and accelerometers, and LAPIS Semiconductor products.
More from Construction Equipment and Supplies