New LED12 Stroboscope Instantly Synchronizes Strobe Flash Rate to Motion
Press Release Summary: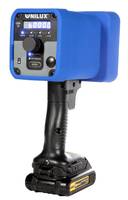 Unilux LED12 Stroboscope is designed for troubleshooting and analysis of high-speed operations. The unit allows user to fine-tune target inspection area for clear details. The LED12 is offered with improved user controls. The instant synchronization provides still image when speed fluctuates.
---
Original Press Release:
Unilux Announces Smart Stroboscope
New LED12 makes it easier to observe high-speed operations.
Saddle Brook, NJ July 11, 2018 Unilux, the world's leading designer and manufacturer of stroboscopic inspection solutions, announces the new and improved LED12 for fast, effective troubleshooting in high-speed applications. 
 
The LED12, a popular stroboscope for troubleshooting and analysis of high-speed operations, has been redesigned to incorporate the company's latest advances in user controls. New features make it easier to instantly synchronize the strobe flash rate to motion for a perfectly still image even when speed fluctuates, while also allowing a user to fine-tune the target inspection area for crisp, clear detail.
 
"Unilux engineers have improved this popular stroboscope by making it even easier to use," said Mike Simonis, President of Unilux. "This redesign marks the next step for stroboscopic inspection by fully leveraging the power and controllability of LEDs, empowering customers to isolate fine detail faster with less effort."
 
Unilux, 59 North 5th Street, Saddle Brook, NJ 07663 USA
Tel: +1-201-712-1266 
customerservice@unilux.com/ www.unilux.com
About Unilux
Unilux inspection systems use the stroboscopic effect to 'freeze' motion, making the smallest of defects clearly visible at full production speed. Unilux empowers maintenance engineers to troubleshoot machinery without stopping production.
 
Unilux, headquartered in Saddle Brook, NJ, has 56 years of experience in designing and manufacturing industrial inspection systems. Unilux stroboscopic inspection systems range from handheld units for troubleshooting anywhere on the line to fixed-mounted units capable of inspecting surfaces up to 12m wide. Unilux products are well supported throughout the world, with sales representatives in 58 countries and five global service centers. 
More from Architectural & Civil Engineering Products