New LED T8 Tube Lights with Clear or Frosted Polycarbonate Lens
Press Release Summary: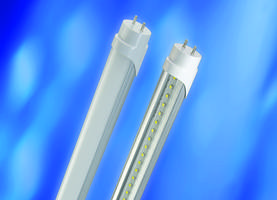 T8 Tube Lights have no toxic mercury and operates on 100~277 VAC
Offer high-lumen illumination in beam angles around 120 degrees
Ideal for office lighting, hallways, parking garage and parking structure lighting
---
Original Press Release:
LEDtronics Latest Generation T8 Tube Lights Shine with or Without a Ballast
Torrance, Calif., Feb. 17, 2021 — LEDtronics® announces a new lineup of next-gen, energy efficient LED T8 Tube Lights to replace fluorescents. The series offers a 'Dual-mode' Ballast Ready/Ballast Bypass set of tubes, as well as a Ballast Bypass Only version.
These Ballast-Bypass or Dual Mode Tubes are available with clear or frosted polycarbonate lens, and in options of 4000K, 5000K or 6000K white. They are ideal for such applications as office lighting, hallways, parking garage, parking structure lighting, production areas, warehouses, transportation, railroads, buses, coolers, freezers, vending machines, schools, retail store display lighting, under-cabinet or cabinet lights, light boxes, and signage backlighting.
Our T8KL1 Ballast Bypass series of new T8 LED tubes come in 2 to 6 foot lengths with directly powered G13 bases (2 pins at one or both ends), while the 5¹⁄₃ and 8 ft tubes have single-pin FA8 bases. They use up to only 8 to 36 watts, depending on length, and can replace equivalent fluorescent tubes 17 to 60 watts.
The Dual-mode (Type A+B) Ballast Ready/Ballast Bypass T8KL2 series of new T8 LED tubes are available in 3 and 4 ft lengths, all with a 2-pin G13 base. They consume only 10 to 18 watts, potentially replacing equivalent fluorescent tubes 25 to 32 watts.
In order to truly benefit from the full energy and cost savings, LEDtronics always recommends doing a simple, one-time ballast bypass when first replacing fluorescent tube lights with LED tube lights. However, we understand the need for Ballast-Ready products. With our Dual Mode tube lights, there is no need for a ballast bypass when installing. All it takes is an easy direct retrofit into an existing fluorescent T8 fixture with electronic ballast, and it is ready to go. In addition, when the ballasts eventually go out, they can then be bypassed — no need to purchase new ballasts.
Our T8KL1 and T8KL2 series LED Tube Lights have an excellent return on investment. They offer energy savings of up to 50 percent over fluorescent equivalents, and have lumen maintenance of over 70 percent at over 50,000 hours (well over five years), while conventional fluorescent lamps typically have an ideal-condition rated lab life in the range 8,000 to 24,000 hours.
Both ETL-listed/classified series operate on 100~277VAC, and are suitable for damp locations. They offer high-lumen illumination in beam angles around 120 degrees.
Constructed with an aluminum heatsink and a PC lens, the tubes have instant, full-strength light-up with no buzzing or flickering, and an even, directional distribution of light. Unlike fluorescents, they produce no UV radiation, no RF interference and minimal IR. Also, being RoHS compliant, they have no toxic mercury, and operate with a wide operating temperature range of ~-4°F to ~+131°F (-20°C to +55°C). Their solid-state construction renders them impervious to shock, vibration and frequent switching.
LEDtronics' LED T8 Ballast-Ready/Ballast Bypass Tube Lights come with a 5-year U.S. factory warranty. Different color temperatures, tube lengths and voltages, as well as Made in USA ARRA compliance options are available for qualified volume offers. The series is available through LEDtronics distributors, and quantity discounts are available.
For more details and technical data, visit the product web pages: https://www.ledtronics.com/Products/product_select.aspx?id=LED48T8KL2-15W-XNW-101WC
More from Software