New LED Lighting Profiles Using SABIC's LEXAN(TM) Resins is First to Comply with pan-European Railway Fire Safety Standard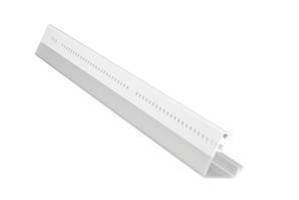 Railway coach manufacturers can now employ high-performance LED (light-emitting diode) lighting systems, including profiles that adhere to the sweeping new regulation aimed at ensuring safer European rail transportation, EN 45545.



The lighting profiles, a product of Elkamet, a leading manufacturer of profiles for lighting technologies, will be on display this week at SABIC's booth, along with other solutions from SABIC's railway portfolio, at InnoTrans, the world's largest rail show, Sept. 23-26, in Berlin, Germany. Profiles are decorative and functional covers for a wide range of lighting solutions used in rail carriages.



In response to the growing demands from its customers for a wide range of transparent, opalescent and satin lighting options for rail interiors, Elkamet decided to use two of SABIC's new LEXAN™ resins for its state-of-art lighting profiles.



"Lighting is an integral part of the passenger experience, and our customers have asked us to create a range of transparent, opalescent and satin options that are critical for fostering a pleasant environment for travellers," said Björn Grunert, Elkamet's Director of Sales. "Together with SABIC, we were able to take advantage of high performance materials that deliver the benefits of custom-colorability via our proprietary extrusion process, and manufacturing efficiency - two benefits that we - and our own customers, value highly."



The new polycarbonate materials, both from SABIC's renowned LEXAN family of resins , comply with the new European railway fire safety standard EN 45545, which supersedes existing national legal frameworks and European directives for fire safety. The new resins also meet the EU bus standard 95/28/EG, expanding the range of similar solutions available to bus and coach manufacturers and their tier suppliers.



LEXAN FXD9332T resin is a diffusive material that can be used to create covers for LED light sources given its inherent satin-like surface texture that helps scatter light and eliminate hot spots. The material can be sheet extruded, so Elkamet used its proprietary profile extrusion process to achieve the full satin-like effect without the need for texture rolls.



LEXAN EX9332T resin is transparent and offers high transmission, making it an excellent candidate for applications that require very bright LED lighting. The LEXAN EX9332T resin is superior to competing materials in that it has a narrow transparent variance specification, which means that the resin is stable when being extruded and does not exhibit strong color variations during a production run. This means manufacturers such as Elkamet can reduce the likelihood of lot-to-lot variations, which can impact product quality and manufacturing efficiency. The resin can also be custom-colored to meet customer requirements for decorative profiles, which can help to reduce waste and improve manufacturing efficiency by not having multiple colors in stock or having leftovers of specific colors.



Additionally, because these custom profiles are made using SABIC's resins, they fulfil the highest level of regulatory compliance for the rail industry, Class R4-HL3.



"Observing the rail industry's shift to an emphasis on LED lighting prompted our development of these two new materials, which have enabled Elkamet to be responsive to the needs of its customers," Kim Choate, Marketing Director for Mass Transportation for SABIC's Innovative Plastics business, said. "Ever since EN 45545 was first discussed, SABIC has devoted considerable resources to anticipate the needs of its customers to comply. The result is that SABIC has the broadest range of EN 45545 compliant thermoplastic materials available today.



As a result of its successful use of the SABIC's LEXAN materials, Elkamet now plans to make further investments in special tools to support the extrusion process, enabling the firm to broaden its offering of specialty lighting profiles made from LEXAN resins.



More information about SABIC's Innovative Plastics business and the range of pan-European EN 45545-compliant thermoplastic resin, sheet and film solutions it offers to customers in the railway sector can be found on at www.sabic-ip.com/transportation. For technical product inquiries, please contact us at www.sabic-ip.com/prtechinquiry.



ABOUT SABIC

Saudi Basic Industries Corporation (SABIC) ranks among the world's top petrochemical companies. The company is among the world's market leaders in the production of polyethylene, polypropylene and other advanced thermoplastics, glycols, methanol and fertilizers.



SABIC recorded a net profit of SR 25.3 billion (US$ 6.7 billion) in 2013. Sales revenues for 2013 totaled SR 189 billion (US$ 50.4 billion). Total assets stood at SR 339.1 billion (US$ 90.4 billion) at the end of 2013.



SABIC's businesses are grouped into Chemicals, Polymers, Performance Chemicals, Fertilizers, Metals and Innovative Plastics. SABIC has significant research resources with 19 dedicated Technology Innovation facilities in Saudi Arabia, the USA, the Netherlands, Spain, Japan, India, China and South Korea. The company operates in more than 40 countries across the world with around 40,000 employees worldwide. SABIC manufactures on a global scale in Saudi Arabia, the Americas, Europe and Asia Pacific.



Headquartered in Riyadh, SABIC was founded in 1976 when the Saudi Arabian Government decided to use the hydrocarbon gases associated with its oil production as the principal feedstock for production of chemicals, polymers and fertilizers. The Saudi Arabian Government owns 70 percent of SABIC shares with the remaining 30 percent held by private investors in Saudi Arabia and other Gulf Cooperation Council countries.



ABOUT INNOVATIVE PLASTICS

SABIC's Innovative Plastics business is a leading, global supplier of engineering thermoplastics with an 80-year history of breakthrough solutions that solve its customers' most pressing challenges. Today, Innovative Plastics is a multi-billion-dollar company with operations in more than 35 countries and approximately 9,000 employees worldwide. The company continues to lead the plastics industry with customer collaboration and continued investments in new polymer technologies, global application development, process technologies, and environmentally responsible solutions that serve diverse markets such as Healthcare, Transportation, Automotive, Electrical, Lighting and Consumer Electronics. The company's extensive product portfolio includes thermoplastic resins, coatings, specialty compounds, film, and sheet. Innovative Plastics (www.sabic-ip.com) is a wholly owned subsidiary of Saudi Basic Industries Corporation (SABIC).

More from Test & Measurement