New Leak Detection Equipment Detects and Locate Small Leaks
Press Release Summary: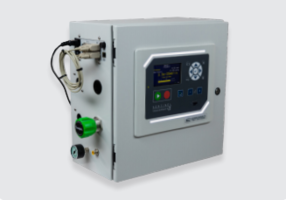 TracerMate II features 12 inputs, 12 outputs and 8 valve drivers for simple integration
Ability to monitor and program remotely
Designed to be plug-and-play with any brand name mass spectrometer or gas analyzer
---
Original Press Release:
Tracer Gas Leak Testing: CTS Sets New Standard for Efficiency and Versatility
Off-the-shelf instrument cuts the costs and headaches of micro-leak detection for refrigeration and cooling units, sealed circuits, e-vehicle battery assemblies, implanted medical devices
October 09, 2019 – Harrison, Ohio – Cincinnati Test Systems (www.cincinnati-test.com), the expert in leak detection equipment, has released TracerMate II, providing manufacturers with a fast and easy-to-use platform to detect, and locate, very small leaks.
TracerMate II updates the previous generation of TracerMate with many new features, to deliver an integrated tracer gas management and micro-leak detection instrument that works with any major brand of gas analyzer. TracerMate II works with helium, the most common tracer gas used for micro-leak detection, but it can also control systems with other gases such as Forming Gas, a hydrogen/nitrogen mix, or carbon dioxide.
Manufacturers can use TracerMate II to perform a high-resolution pressure decay test followed by leak location on the same test station. As a result, they can reduce the costs associated with extra test stations and part handling. This replaces the dunk tank and soapy water approach on the production line or in the repair bay with a reliable and automated dry method that eliminates operator subjectivity.
Manufacturers are freed from the headaches of trying to engineer a DIY solution for leak detection. TracerMate II's automated process can carry out hard vacuum tests on parts that require helium as a test media. The result is faster cycle times for the lowest of leak rates, with additional data collection for traceability.
This makes TracerMate II ideal for those manufactured products that have the lowest acceptable leak rates, such as refrigeration and cooling units in appliances and HVACR systems, sealed circuits, e-vehicle battery assemblies and implanted medical devices.
Now built on the same proven platform as the popular Sentinel I28, the TracerMate II offers many advanced features:
High-resolution pressure decay test and tracer gas leak location in the same instrument after a reject
 Twice the I/O as before: 12 inputs, 12 outputs, 8 valve drivers, for easier integration
Higher pressures and increased flow 
Ability to monitor and program remotely
Upgraded communications, with USB, 2 RS-232 ports and Ethernet
More test types, customizable without additional programming
More data storage
Designed to be plug-and-play with any brand name mass spectrometer or gas analyzer – no programming required
"With TracerMate II, CTS has taken manual sniffing to a whole new level with a simple solution that is user friendly because it's easy to deploy out of the box and not PLC-dependant," said Shankar Krishnamurthy, Vice President, CTS. "Plant staff are freed from the issues of dunk testing or the frustrations of trying to engineer a DIY answer to micro-leak detection. Our team has done all the hard work so your team doesn't have to."
See the TracerMate II data sheet for more information.
To learn more about TracerMate II and how we can tackle challenging micro-leak tests, contact us. 
About CTS
Since 1981, Cincinnati Test Systems, Inc. (CTS) has delivered precision leak detection equipment, functional test systems and assembly verification testing to manufacturers. Its Sentinel, TracerMate and LPC products are used for pressure and vacuum decay leak testing, flow testing and tracer gas testing in the medical device, automotive, consumer products, off-highway, oil and gas, and energy sectors. CTS is part of the TASI Group of Companies' Product Integrity organization, along with Sciemetric and CTS-Schreiner. The Product Integrity organization provides Industry 4.0 leak test, data management and analytics solutions that help manufacturers worldwide improve quality and productivity. CTS has sales and support offices in the U.S., Europe, China and Korea.
Media Contact:
Leo Valiquette 
(613) 769-9479
leo@leovaliquette.com
More from Electrical Equipment & Systems