New Laser Safety Mirror and Crosshair Use Fluorescent Glass Technology
Press Release Summary: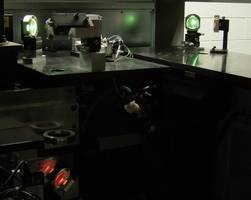 Offered in 50.8 x 5 mm thick alignment dimensions and designed for alignment of laser optical systems
Features fluorescent visual signature that provides precise alignment and tailored for NIR and UV wavelengths
Mounted in variety of standard optical mounts or turning mirror blocks
---
Original Press Release:
Laser Safety Mirror and Crosshair for Critical Laser System Alignment
March 4th 2019 - BOLD Laser Automation, Inc. of Bedford, NH USA, announces their new Laser Safety Alignment Mirror (LSAM2) and a Visual Laser Alignment Crosshair (VLAC2) utilizing its proprietary fluorescent glass technology.
LSAM2 and VLAC2 are a 2" (50.8 mm) x 5 mm thick alignment device for aligning laser optical systems, either in an industrial environment or in a university setting. The fluorescent visual signature provides a safer and precise alignment, without the need for contamination causing paper or thermal cards. Tailored for NIR to UV Wavelengths.
The LSAM2 and VLAC2 can be mounted in various standard optical mounts or Turning Mirror Blocks and custom sizes are available.
As greater numbers of Near Infra-Red (NIR) picosecond lasers, Fiber lasers and DPSS UV lasers enter the marketplace, the ability to quickly align an industrial laser system in the field or within a laboratory becomes critical, especially for newly minted service engineers, technicians and students in a university setting.
LSAM2 and VLAC2 provides a level of safety never achieved before. Instead of using thermal paper or plastic fluorescent cards at lower unstable power levels or chasing an invisible laser beam, the LSAM2 and VLAC2 can be set in place and the beam can be quickly found at full power.
The LSAM2 and VLAC2 is also available in Ø1.00-inch (25.4 mm) and custom sizes by request. LSAM2 can be configured in many ways and custom mounts are available for insertion into industry standard beam delivery or optical table mounts.
For more information and product literature, call 1-855-295-6037 / 1-603-413-5601 or go to www.boldlaserautomation.com or info@boldlaserautomation.com
BOLD Laser Automation, Inc.
27 Harvey Road, Unit 4
Bedford, NH 03110 USA
Phone: 603.493.2579
URL: www.boldlaserautomation.com
Todd Lizotte
E-mail: todd.lizotte@boldlaserautomation.com
More from Thermal & Heating Equipment