New Laser Cutting Service Announced by Spartanics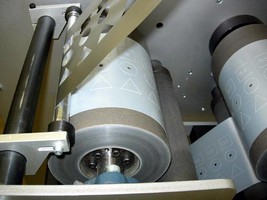 (Rolling Meadows, IL, USA) Manufacturers who want the benefits of tool-free cutting technology but seek a cost-effective alternative to purchasing laser cutting equipment can now utilize Spartanics Laser Cutting Contract Manufacturing Service. This new contract manufacturing service is also designed to be an extended production trial of
Spartanics Klemm Digital Die Cutting Systems for companies considering investments in laser cutting technology.

Spartanics Laser Cutting Contract Manufacturing Service will take on jobs of any length and include the full range of special features possible with the Spartanics Klemm Digital Die Cutting System - roll or sheet, through-cutting, kiss-cutting, scoring, perforating, and more. The new laser cutting service will also be able to handle the wide range of paper, plastic, foil, adhesive, abrasive, thin polycarbonates and other substrates that the Spartanics Klemm Digital Die Cutting System cuts. The service is available to companies worldwide.

For pricing on specific jobs and applications, one should send material samples and jobs specifications to the regional Spartanics sales associate listed at www.spartanics.com/display/reps/reps_map1.cgi.

Bill Knotts, Vice President of Spartanics, comments, "The extended production trials that this contract manufacturing service provides is expected to be very powerful in demonstrating the superiority of the Spartanics Klemm Digital Die Cutting System. How the Spartanics Klemm synchronizes the powering on and off of laser pulses to the part
geometry is what distinguishes it as the best quality laser cutting system ever developed, and this is apparent when one looks at samples of how it cuts. The Spartanics Klemm is fine-tuned for handling transition points in part geometries and can cut parts with small radii angles with no problem. Users of Spartanics contract manufacturing service will now be able to see the results of this superior software in their specific applications. There will be no pinholes or burn-throughs, and we will
guarantee this type of defect-free output."

Rolling Meadows, Illinois-headquartered Spartanics (www.Spartanics.com) engineers and manufactures a range of automated equipment for die cutting, automated handling, and counting used by global converters, nameplate manufacturers, graphic arts and label manufacturing firms, among others. Its worldwide service organization also maintains offices and spare parts in the UK. To place orders or for other product inquiries, please contact Scott Edwards, Sales Administrator, Spartanics, + (847) 394 5700, FAX + (847) 394 0409, sales@spartanics.com.

More from Test & Measurement