Data and Database Management Software
New Lantek 360 Cloud Based Application Provides Accessibility to Data from Multiple Locations
Press Release Summary: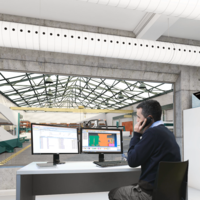 The Lantek 360 Cloud Based Application increases data security and data availability with built in redundancy for backup and recovery. The application allows companies to access the data from multiple locations for multi-plant operations and mobile working. The cloud services provide continuous and transparent updates of the protocols and protection layers. The Lantek 360 ensures continuity of data availability and manufacture in extreme conditions.
---
Original Press Release:
The Lantek 360 Advantage – Digitization in the Cloud for Sheet Metal Manufacturers at EuroBLECH
Sheet metal and fabrication companies are becoming aware of the benefits of digitization and the competitive advantage it will deliver for their businesses. At EuroBLECH, Lantek will be demonstrating its new suite of cloud based applications Lantek 360 in Hall 12 stand 118.
Lantek is a recognised leader in sheet metal software and its skills and experience internationally has led it to develop cloud based software products that will provide end-to-end management of manufacturers' businesses within the industry.
Using cloud based applications has clear advantages for companies - data security and data availability is close to 100% with built in redundancy for backup and recovery; special computing expertise at the manufacturer's site is unnecessary as it is supplied by Lantek and the cloud service provider; data can be accessed from multiple locations for maximum flexibility for multi-plant operations and mobile working; high security levels and encryption prevent data abuse and ensure that only the latest versions of the data are being used; cost of access to high value  and complex computer equipment and services is low; software maintenance and updating is managed by Lantek;  additional Lantek software modules can be accessed or deactivated  as the need s of the company evolve.
Despite all these advantages some companies are wary of using cloud based applications, due to concerns about potential disruptions to production. Lantek has addressed these concerns by storing copies of the critical data locally at the customer's premises. This hybrid approach offers the best of both worlds ensuring continuity of data availability and manufacture even in extreme circumstances, while utilising the power of the cloud to manage the applications being used as well as the security, availability and reliability of the manufacturer's vital production data.
For smaller companies, the advantages of cloud working are even more evident, as the cost of suitable computer equipment is high and, more importantly, the skills required to manage such a system are expensive and difficult to find. By moving to cloud based digitization manufacturers can concentrate on their core skills of manufacturing products and get all the benefits that digital transformation can bring, along with the agility that is synonymous with smaller companies.
Using software in the cloud is now an everyday occurrence in all walks of life from banking to shopping and normal office tasks. Rob Powell, Commercial Director of Lantek in the UK, adds, "The cloud already offers very high levels of security. Cloud services allow for continuous and transparent updates of the protocols and protection layers used by the platform that supports the service, so there is nothing to fear from this development and a considerable amount to gain, especially with Lantek's hybrid approach which will ensure continuity of critical services under the most extreme circumstances."
At EuroBLECH, visitors will be able to see how the Lantek 360 suite of cloud based software, which comprises Lantek Analytics; Lantek iQuote; Lantek MetalShop and Lantek Control Panel, can help companies to find and use performance and historic data, manage their production, costs and profit; make better evidence based decisions and build close relationships with both customers and suppliers for long term success in a highly competitive environment.
About Lantek
Lantek is a multinational company which is leading the digital transformation of companies in the industrial sector of sheet metal and fabrication. It offers its own software solutions in business manufacturing intelligence, which enable connecting the plants thereby converting them into smart factories. It rounds off its range with the development of CAD/CAM/MES/ERP solutions for companies that manufacture metal parts from sheet metal,  tubes and profiles, with any cutting technology:laser, plasma, oxycut, waterjet, shearing,and punching.
Founded in 1986 in the Basque Country and with its headquarters in Vitoria-Gasteiz (Álava), Lantek enables the integration of cutting and punching technologies in the plant using the most demanding advanced manufacturing management software. The company is currently the outstanding leader in its sector thanks to its capacity for innovation and commitment to internationalization. With more than 19,000 clients in over 100 countries and its own offices in 15 countries, it has an extensive network of distributors with a worldwide presence. In 2016, its international business contributed to 85% of its revenue.
For more information visit: www.lanteksms.com
For more information
LANTEK  
Diana Sánchez
marketing@lanteksms.com 
Tel.: 945 771 700
Rob Powell
Commercial Director
Lantek Systems Ltd.
Malvern Hills Science Park
Geraldine Road Malvern
Worcestershire WR14 3SZ
More from Computer Hardware & Peripherals