New Landroid M Robotic Mower Comes with Built-In Safety Sensors
Press Release Summary: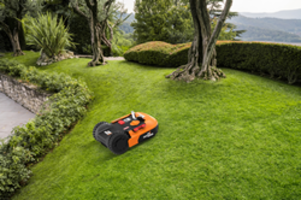 Equipped with three pivoting blades and LCD screen display and powered by WORX 20V MAX Lithium 4.0 Ah battery
Designed to cut lawns in any day/time combination that can be controlled via interface or remotely through Landroid smart phone app
Enables user to automatically calculate and record size of the lawn and configures working schedule
---
Original Press Release:
New WORX Landroid M Robotic Mower is Loaded with the Latest Technological Features
CHARLOTTE, N.C. (PRWEB) APRIL 30, 2019 - WORX® is celebrating spring with the introduction of their next generation robotic mower, the Landroid M™. This streamlined, compact mower is programmable to cut lawns in any day/time combination for an entire season through the mower's user interface, or remotely, using the Landroid smart phone app.
This robotic mower moves methodically at its own pace, cutting the lawn as programmed up to a ¼ acre, unsupervised. Loaded with the latest electronics, a homeowner could be on the golf course communicating with the mower by telling it when and what time to cut the lawn. Farfetched? Not at all, with the new WORX Landroid M robotic mower.
Using the Landroid's smart phone app, users can program and control the mobile mower. One of the app's features is the lawn size calculator. By walking the lawn's perimeter with the app, it automatically calculates and records the size of the lawn. Then, the app automatically configures a working schedule for the mower. In the event of rain, the Landroid returns to its charging base and sends notification to the app that it is doing so. The mower's built-in timer tells it when to resume mowing. The timer can be reset through the mower's interface or through the app. Updates to the Landroid's app firmware are applied automatically via WiFi.
"We've redefined the new Landroid with the latest technology to make it a "smart mower" that's a true asset to homeowners," said Thales Marques, WORX Product Manager. "The Landroid M is a real time saver for homeowners who would rather spend time golfing, going to the beach or pool, attending a baseball game or relaxing on their deck or patio."
The Landroid M (WG140) is powered by the WORX 20V MAX Lithium 4.0 Ah battery, which is part of the WORX Power Share platform and compatible with more than 25 other WORX lawn and garden and DIY tools.
Another feature of the mower is "cut to edge." Landroid's offset blade design minimizes the need for trimming. Also, with the mower's patented AIA technology, Landroid algorithm or problem 
solving capabilities allow it to better navigate through narrow passageways compared to other robotic mowers.
Landroid M is ready to go, right out of the carton, with preprogrammed settings. Users do not have to customize the mower's programming after installation, although it is recommended. 
Other key features include a side charging port and multi-zone programming, which allows users to set up separate lawn cutting zones, such as front and back yards, tiered locations and berms. Also, homeowners can set up a security pin number code to lock out Landroid's operation. Only the correct pin number will enable the mower to start, which is effective in the event the mower is stolen.
In addition, the mower automatically returns to the docking station to recharge its battery or when mowing has been completed. Landroid's weather-proof construction includes a rain sensor, which instructs the mower to return to the docking station when it's raining.
Built-in safety sensors stop the mower blades rotation when it's lifted or tipped and reverses the Landroid when it makes the slightest contact with a person, pet or object. The three pivoting blades combine for a 7 in. cutting width. An LCD screen display sets up programming and pin code setting.
The 21.12 lb. Landroid M, WR140, includes one, 20V MAX Lithium 4.0 Ah battery, 20V, 90-minute charging station, nine cutting blades and screws, boundary wire and staples, a hex key, two measurement gauges, and eight lawn screws for securing the charging station. Landroid M's cutting height adjustments are from 1.5 to 3 in. The mower's maximum incline is 20 degrees.
Plug-N-Play modular accessories expand the Landroid's capabilities. Optional features include an Anti-collision System with an ultrasonic sensor (WA0860, $199) to avoid hard obstacles and collisions. Another optional feature is Off Limits (WA0863 $119.99), which simplifies the wiring process for complex lawns and landscapes. The optional GPS module, Find My Landroid (WA0866, $399.99) locates a lost or stolen Landroid and features enhanced communication capabilities through a cellular phone.
The WORX Landroid M (WR140, $999.99) is available at worx.com and Amazon. The Landroid mower is covered by the WORX one-year limited warranty.
To reach out to WORX social media links visit: Facebook: https://www.facebook.com/worxus?ref=hl; Twitter: https://twitter.com/WORXTools; Pinterest: http://pinterest.com/worxtools and Instagram: @WORXTools
Contact Information
Mike Mangan
MKM Comm.
http://www.worx.com
847-255-1903
More from Packaging Products & Equipment