New KSC XA Tactile Switch is Suitable for Steering Wheel or Gear Shift Paddle Applications
Press Release Summary: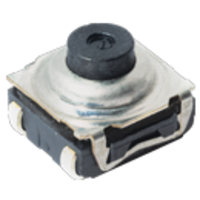 Designed for automotive interior and openings applications
Operating life is up to 1,000,000 cycles and comes in a 6.2 x 6.2 x 4.9 mm package
Offers a soft sound suitable for cars and hard actuator with a stable and large actuation surface
---
Original Press Release:
C&K's Tactile Switch Meets Automotive Demands for Haptic and Sound in Industry's Smallest Package
New KSC XA switch is compact and low cost
WALTHAM, Mass., – 25 June 2019: C&K, a leading manufacturer of high-quality electromechanical switches, announces the launch of its KSC XA tactile switch, designed for automotive interior and openings applications.
The new switch is in a smaller form factor than existing competitor products that deliver the required sound and haptic feedback. It is provided in a compact 6.2 x 6.2 x 4.9 mm package, making it ideal for applications such as steering wheel or gear shift paddles.
The KSC XA provides a soft sound, making it well-suited to cars from multiple manufacturers. It is based on C&K's well-established KSC range of switches, which enables it to be lower cost than competitive products.
Operating life is up to 1,000,000 cycles, delivering improved reliability for automotive applications. The switch is housed in an extended cage, it is fully sealed, and it is compatible with potting, which is often used in opening applications. These capabilities have helped it to achieve IP67 rating for resistance to dust and moisture – thus enabling it to withstand the extreme environmental conditions and exposure to water that are often experienced in automotive use cases.
The switch includes a hard actuator with a stable and large actuation surface, which makes it compatible with all style of customer button. It is constructed with a new over molding configuration combined with a new silicon wafer.
"Automotive customers have highly specific, and very demanding, requirements for switches, with reliability a key factor. They know that the sound and haptics of a switch can strongly influence drivers' and passengers' perceptions of the car's quality. The KSC XA switch delivers the right sound and haptics and excellent reliability, in a compact package – all at a lower cost than competitive products," says Jérôme Smolinski, Global Product Manager, Tact Switches at C&K.
The new KSC XA switch is available in June 2019 to direct customers in the automotive sector, as well as through C&K's distributor network. For more information on the KSC XA switch, including details and specifications, click here: https://www.ckswitches.com/products/switches/product-details/Tactile/KSC%20XA/
About C&K
Founded in 1928, C&K is a global leader in high-quality electromechanical switches. The company's unmatched custom design capabilities are recognized globally by design engineers who demand reliable switch performance. C&K offers more than 55,000 standard products and 8.5 million switch combinations to companies that design, manufacture and distribute electronics products. Used in automotive, industrial, IoT, wearables, medical, telecom, consumer products, aerospace and POS terminals, C&K products include tactile, pushbutton, snap-acting, toggle, rocker, detect, DIP, keyswitch, navigation, rotary, slide, switchlock, thumbwheel, smart card readers, high-rel connectors and custom assemblies. C&K is headquartered in Waltham, Mass. with global design centers in Waltham Mass., Dole France and Huizhou China. For more information, please visit www.ckswitches.com or connect with us on LinkedIn and Twitter.