New Krystol T1 Concrete Waterproofing Product That Eliminates the Need of Paint Over the Surface
Press Release Summary: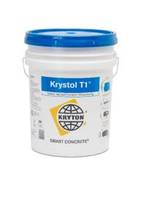 The Krystol T1 Concrete Waterproofing Product is offered in original gray and white colors. The product offers waterproofing protection when applied in single coat. It is suitable for concrete repair projects and meets OSHA standards.
---
Original Press Release:
Kryton's Enhanced Smart Concrete® Solutions Simplify and Speed Up Construction
LAS VEGAS, Jan. 22, 2019 /PRNewswire/ - Vancouver, B.C. based Kryton International Inc. launched an improved concrete waterproofing solution at The World of Concrete Convention in Las Vegas. Enhancements to Kryton's surface-applied concrete waterproofing product, Krystol T1 are being rolled out to the market with two major improvements: one—it can now be applied in a single coat, which provides complete waterproofing protection; two—it is now available in two colors, the original gray and the newly introduced white. Krystol T1 White provides an aesthetic finish and eliminates the need and cost of having to paint over the surface.
This is not the first time Kryton has responded with innovative solutions to emerging challenges in concrete construction. Five years ago, Kryton revised the Leak Repair System to a simple 3-step process that requires no excavation of concrete. Last year, they announced Hard-Cem, a game-changing concrete hardening solution that accelerates construction by eliminating the extra steps taken to harden concrete. Using Hard-Cem, an integral admixture, not only provides superior abrasion and erosion resistance but also protects workers from harmful silica dust and helps hold to the new Occupational Safety and Health Administration's (OSHA) standard.
Krystol T1 has been used in thousands of concrete repair projects where repairs could only be conducted from the negative side of water pressure. For the Goedehoop Colliery Mine in South Africa, Kryton distributor Sanika Waterproofing Specialists were awarded the 2018 Award of Excellence by the International Concrete Repair Institute (ICRI).
"Repairing concrete that is already leaking is challenging," says Kevin Yuers, VP of Product Development, "but our proprietary Krystol Technology gives concrete the unique ability to infinitely self-seal cracks even decades after a structure is built."
Kryton is proud to nurture a strong culture of research and innovation. "Kryton's R&D team continues to find more effective solutions that simplify construction and amplify productivity," says Kevin Yuers.
ABOUT KRYTON
Kryton International Inc. is a manufacturer and distributor of integral crystalline waterproofing and concrete hardening solutions. Kryton is the inventor of the crystalline waterproofing admixture and has waterproofed concrete structures with its proprietary Krystol® technology since 1973. In 2017, Kryton expanded its scope to include waterproofing and durability with the acquisition of Cementec Industries. Kryton is now distributing Hard-Cem® and is the only manufacturer of Silica Fume products in Western Canada. Kryton exports its products to over 50 countries. www.kryton.com
CONTACT: Kanasu Nagathihalli, Content Writer, Tel: + 1 604 324 8280 | Ext - 234, Toll Free: 1 800 267 8280, Email: knagathihalli@kryton.com
Web Site: www.kryton.com
More from Fluid & Gas Flow Equipment