New KeyWatcher Fleet Key Control System is Embedded with Flexible Booking Workflows
Press Release Summary: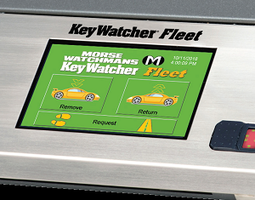 The KeyWatcher Fleet Key Control System from Morse is designed to maintain and optimize vehicle usages. It allows managers to create role-based pools or groups of vehicles for automatically assigning each vehicle. The system provides dashboards that displays real-time status, bookings summary and vehicle use. The KeyWatcher utilizes 16, 8 and 6-key modules and enables user to add an optional fingerprint reader. It provides alert to notify management to specific issues like unauthorized booking attempt or expiring driver's license.
---
Original Press Release:
Morse Watchmans Introduces Key Control System Purpose-Built for Fleet Management
KeyWatcher Fleet Dashboard Displays Pulse of the Fleet in an Instant
Austin, TX (October 28, 2018) – Morse Watchmans, the world leader in key control and asset management systems, is introducing KeyWatcher Fleet this week at the American Trucking Association Management Conference and Exhibition. KeyWatcher Fleet is the first key security system with software designed from the ground up for fleet management applications.
"We've leveraged our extensive experience customizing key control systems for fleet managers and purpose-built KeyWatcher Fleet to fit their specific needs," said Fernando Pires, CEO at Morse Watchmans. "KeyWatcher Fleet goes well beyond key control for security purposes by providing significant management and operational benefits - we're very excited to introduce it here at the ATA Management Exhibition."
KeyWatcher Fleet offers fleet managers a wide array of tools to maintain and optimize vehicle usage while reducing many operational costs. Managers can create user role-based "Pools", or groups of vehicles, to automatically assign each vehicle accordingly. Flexible booking workflows enable customization to balance usage, ensure vehicle availability and more. A range of service features makes it possible to report problems and automatically initiate new or scheduled work on each vehicle. System alerts notify management to specific issues such as an unauthorized booking attempt or expiring driver's license, and the system generates a number of useful reports with actionable insights.
"Morse Watchmans Smarts" lets users create policies to enable automatic allocation of vehicle for each driver. Settings can be configured by lowest mileage, most fuel, priority, first in/first out and more. Each driver need only enter their code and the key for their allocated vehicle will be released to them.
A convenient dashboard displays real-time status, bookings summary, vehicle use and many other data points to provide the pulse of the fleet in an instant.
Built on the robust and proven KeyWatcher Touch hardware, KeyWatcher Fleet uses the same 16, 8 and 6-key modules, along with the same card and locker modules. Unique pin codes ensure only authorized individuals can access keys, or users can add an optional card or fingerprint reader for even stronger key security, allowing you to manage thousands of keys and users with a single system or network.
Like all Morse Watchmans key and asset control solutions, KeyWatcher Fleet is networkable and offers API support for integrations.
For more information, visit booth 7018 at the ATA Management Conference and Exhibition, or email Erik@morsewatchman.com or call 800-423-8256.
About Morse Watchmans
For over a century, Morse Watchmans has been known as an innovator of high-quality, cost-effective technology. Through seamless design, manufacturing and support, we earned the reputation as the world leader in security management products. Specializing in state-of-the-art key management (KeyWatcher®), asset management (AssetWatcher®) guard tour (PowerCheck®) and key ring (KeyRing™) systems, our products are reliable, easy to use and expandable to meet your growing needs. Our company offers industry-leading software, service and support to ensure the effectiveness of your security investment. Contact us today and find the right solution for all your security management needs.
Ryan LaMarca
LRG Marketing
(845) 358-1801
More from Communication Systems & Equipment