New Kason High Capacity Classifier Mill Grinds and Classifies up to 16.5 tons/h (15 tonnes/h) PR (GG-0406US)
Press Release Summary: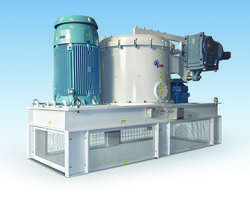 The new Kason high capacity classifier mill can process up to 16.5 tons of material per hour. It also combines both the impact grinding and air classification processes into one machine. Materials are processed through a milling chamber and separated using centrifugal force. Applications include uses in the bulk food, pharmaceutical, chemical, powder coating and mineral processing industries. 
---
Original Press Release:
Highest Capacity Air Classifier Mill from Kason Grinds and Classifies up to 16.5 tons/h (15 tonnes/h) PR (GG-0406US)
MILLBURN, NJ—Kason Corporation has introduced a new Air Classifier Mill with higher capacity than any model previously offered by the company, it was announced by Henry Alamzad, president.
Designated model CAM 1300, the unit combines impact grinding and air classification in one machine to produce fine grinds with narrow particle size distribution in the range of D97 = 10µm typical, at rates to 16.5 tons (15 tonnes) per hour for large-scale processes.
Intended for bulk foods, pharmaceuticals, chemicals, epoxy resins, powder coatings and mineral applications, the mill allows control of the air flow rate and grinding temperature to condition heat-sensitive or hygroscopic materials.
 Material enters the milling chamber where a spinning rotor impacts the particles against grinding segments inside of the chamber wall by centrifugal force.  A rising column of air lifts the particles into the rotating classifier wheel, separating on-size material and directing it to the process air stream for collection or further processing. Over-size material returns by gravity into the path of the spinning rotor for further grinding.
Particle size is readily controlled by varying the rotor speed, classifier speed, airflow rate and feed rate, eliminating the need for separate classification equipment.
The easy-clean design includes a "clam shell" style lid that, when fully opened, provides complete interior access for change-outs of grinding media and sanitizing to prevent cross-contamination.             
It is available in carbon steel or in 304 or 316 stainless steel finished to industrial or sanitary standards.  Hastelloy® and other alloys are also available for processing of corrosive or abrasive materials.
Kason also manufactures other models of Air Classifier Mills for processing at rates down to several pounds/kilograms per hour for laboratory applications.
The company also manufactures universal mills, cone mills, lump breakers, vibratory screeners, centrifugal sifters, static sieves, mixing and blending equipment and circular fluid bed dryers, coolers and moisturizers.
For information contact Kason Corporation, 1-973-467-8140, info@kason.com, www.kason.com
More from Electronic Components & Devices