New K3 Vibratory Feeders with Flexible Pendulum Technology
Press Release Summary: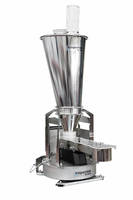 Gentle product handling, high accuracy and quick product changeover with no residual material
Ability to deliver a continuous, even product discharge with minimal pulsation
New WYK diverter valves designed for CIP cleaning in conveying lines for powders and granules
---
Original Press Release:
Coperion and Coperion K-Tron Showcase New Technologies at International Powder and Bulk Solids Exhibition 2021
Salina, KS, USA (June 2021) – Enthusiastic about reconnecting in person, Coperion & Coperion K-Tron will present at this year's Powder Show, August 24-26, 2021 - Donald E. Stephens Convention Center, Rosemont, IL/USA, in Booth 2017, Hall A. The focus will be the newest technological solutions and developments Coperion has to offer for bulk material handling processors. Coperion K-Tron will display for the first time at the Powder Show the V200 Loss-In-Weight Vibratory Feeder specifically designed for gentle handling of bulk solids and the newly redesigned single channel WYK diverter valve for clean-in-place applications. The 4-inch valve on display is now certified according to the USDA guidelines of the sanitary design and fabrication of food, pharmaceutical and chemical processing equipment.
K3 Vibratory Feeder – Ideal for feeding fragile materials
The new line of Coperion K-Tron K3 vibratory feeders features a unique, patent-pending drive system combined with an advanced control package, resulting in gentler product handling, higher accuracy and quicker product changeover with no residual material.
The key to the K3 vibratory feeder achieving high accuracy is the ability to deliver a continuous, even product discharge with minimal pulsations. Conventional vibratory feeders use rubber or spring shock absorbers, which allow movement of the drive in all directions, resulting in rotational motion of the tray. The unique flexible pendulum technology of the K3 vibratory feeder controls the tray movement and eliminates wasteful motion. This resulting parallel motion ensures an even material flow of the product along the entire length of the vibratory feeder tray. Standard and hygienic designs are available. The hygienic design comes with silicone cover to enclose the complete drive assembly, making it suitable for food and pharmaceutical applications.
As stated by Sharon Nowak, Global Business Development Manager for the Food and Pharmaceutical Industries, "This new innovative vibratory design is ideal for fragile materials as well as quick product changeovers. The patent pending drive technology combined with Coperion K-Tron's new KCM-III controller and innovative weighing modules provides the most accurate vibratory feeding on the market today."
WYK-CIP Diverter Valve – Now USDA certified
The Coperion WYK diverter valve has been specifically designed for CIP cleaning in conveying lines for powders and granules and is now USDA certified. Coperion has continued to develop the WYK diverter valve based upon feedback from industry partners making it a perfect fit for even the most stringent hygiene and purity demands. The conical rotor is switched between conveying tubes via an actuator while the diverter is operated in conveying mode. During cleaning, the rotor is extracted slightly by a second actuator which allows the cleaning liquid to reach all areas of the inside while the diverter is still closed to the outside. The valve does not need to be opened during or after CIP and yet is thoroughly clean afterwards which saves time and costs. All materials conform to food standards and the sealing materials are FDA approved.
About Coperion
Coperion is the international market and technology leader in compounding and extrusion systems, feeding and weighing technology, bulk materials handling systems and services. Coperion designs, develops, manufactures and maintains systems, machines and components for the plastics, chemicals, pharmaceutical, food and minerals industries. Within its two divisions – Polymer and Strategic Markets / Aftermarket Sales and Service – Coperion has 2,500 employees and nearly 30 sales and service companies worldwide. Coperion K-Tron is a brand of Coperion. For more information visit www.coperion.com or email info@coperion.com.
Contacts:
Shari Lake
Marketing Communications
Coperion K-Tron Salina
606 North Front Street
Salina, KS 67401
Telephone: +1-785-825-3884
Shari.lake@coperion.com
www.coperion.com
Dr. Jörg Wolters
KONSENS Public Relations GmbH & Co. KG
Hans-Kudlich-Straße 25
D-64823, Groß-Umstadt
Tel.:+49 (0)60 78/93 63-0
Fax: +49 (0)60 78/93 63-20
Email: mail@konsens.de
Internet: www.konsens.de