New JM100 Series Mini End Mills from Seco Come with Advanced Coatings and Tight Radius Tolerances
Press Release Summary: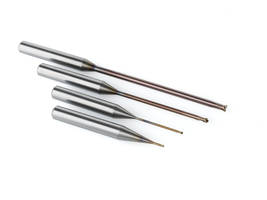 Available in tool diameters ranging from 0.2 to 3.0 mm, corner radii of 0.05 to 0.3 mm range and overhang lengths from 1.5* DC to 20* DC
Minimizes the part processing time by reducing the need for secondary benchwork
Designed for micro-machining applications that require zero visibility of workpiece and cutting tool
---
Original Press Release:
Seco Mini End Mill Series Adds Big Precision to Tiny Tools
TROY, Mich., March 7, 2019 – Shops that struggle to machine micro-sized workpiece surfaces can now achieve superior surface-finish quality, accuracy and precision with the new Seco Tools JM100 Mini end mill series as part of the wide and continuously expanding Jabro® range of solid-carbide end mills. In micro-machining operations with zero visibility of workpiece and cutting tool, the JM100 Mini delivers longer tool life, stability and guaranteed surface quality thanks to its extremely precise geometries, virtually zero runout, advanced coatings and tight radius tolerances.
Targeted to achieve precise surface finishes on mold and die components and able to machine tool steel as hard as 48-65 Rc, the JM100 Mini helps shops minimize secondary benchwork that can increase part processing time. The end mill's special coating reduces tool wear to help lower overall tool costs and eliminate the need for frequent tool changes. It also ensures smooth and consistent surface finishes that yield exceptional part performance. Tight radius tolerances of ±0.005μ on the tool reduce runout virtually to zero, increasing output and contributing to lower cost per part with high process precision, stability and reliability. 
The JM100 Mini is available in tool diameters from 0.2 mm to 3.0 mm (0.008" to 0.118"), corner radii ranging from 0.05 mm to 0.3 mm (0.002" to 0.012") RE = ±0.005 and overhang lengths from 1.5* DC to 20* DC, with two and three-flute versions.
About Seco Tools, LLC
Headquartered in Fagersta, Sweden and present in more than 75 countries, Seco Tools is a leading global provider of metal cutting solutions for milling, stationary tools, holemaking and tooling systems. For more than 80 years, the company has provided the technologies, processes and support that manufacturers depend on for maximum productivity and profitability. For more information on how Seco's innovative products and expert services bring success to manufacturers across all industry segments in North America, please contact Seco Tools, LLC, 2805 Bellingham Drive, Troy, Michigan, Tel: 248.528.5451, or visit www.secotools.com. 
MEDIA CONTACTS:
dgs Marketing Engineers®
Chuck Bates | 317.813.2230
or
Seco Tools, LLC
Bob Heery | 248.528.5451
More from Machinery & Machining Tools